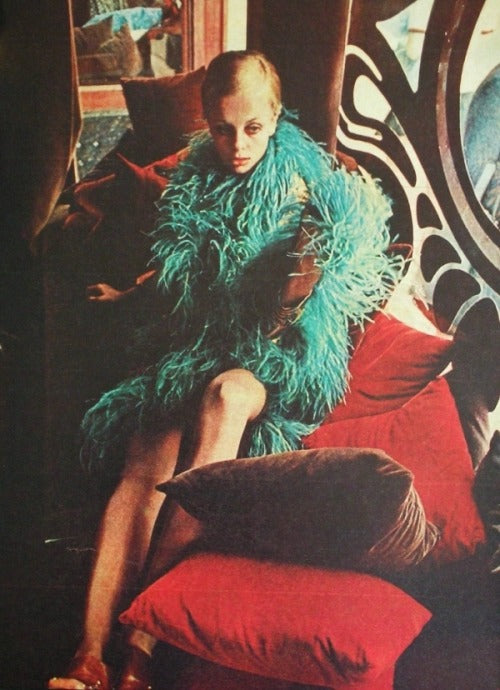 On today's blog, we're going on the journey to the next 2 years of Biba. Thank you so much for joining us, we hope you're enjoying the ride so far!
As you read along we encourage you to play this Playlist, just to really illustrate how much society was changing in 1965 and 1966. The 50's and stuffy days of the early 60's were well & truly being left behind and the music of these 2 years really highlights the change in scene... not just in terms of music but wholly intertwined with fashion, art and London's 'youthquake.'
Find the playlist by clicking here, the top 25 tracks from 1965 & 1966!
So many famous people came in… the shop was so small, on Saturday's it would be so full, no one could move! Biba had to find a bigger store...
"I shall never forget in the first little shop the day a limousine arrived outside and this couple got out… we had never seen anybody like them, both wore FLARED pants! It was Sony and Cher!" From our conversations with Barbara Hulanicki.
By the summer of 1965 Biba had outgrown their first store in Abingdon Road and decided to move to an old grocer's shop on Kensington Church Street. It was empty and had a large wooden front, mahogany walls and 6 months later they made it Biba - with velvet cushions, a checkered floor and plum red wall paper. 
Two of the 'it' girls of the time who loved Biba, Cilla Black (singer) & Cathy McGowan (host of a very popular music based TV show), helped with the move. Barbara & Fitz called the papers and press and for the day, all the Biba Shop Girls moved the whole shop down the road… coat racks in the middle of the street, trucks and clothing strewn around and everyone joining in to help!
The day of the move, they had a party in the shop with hundreds of people turning up! The next day, when Barbara and Fitz were there to open for the first day, there was a large queue outside the shop. The store was 4 times the size of the previous one and by the afternoon of their first week, there was nothing left.
From our conversations with Barbara Hulanicki: "When we had a new delivery of certain styles everyone would know and in the second shop, they would be sitting and waiting for it to arrive! Fitz and I would be trembling in fear that the correct style would be delivered as sometimes there would be a delivery of a garment that they were not waiting for… we had to scamper out in fear of their anger! It amazes me now how there was so much communication on the just the landline telephone!"
This year, when we were in London for Fashion week, we chatted to a lovely lady who told us stories of her and her friends heading straight to Biba on Tuesday mornings to line up for the shoe delivery! She said, back then she had all the boots in every colour…
"In the second shop we started up the mail order catalogue as well as the store, which was amazing as I could get the Biba look together on paper..... We used major photographers, as I had been a fashion illustrator and knew all the press, and so it was not difficult to ask even people like Sarah Moon and Helmet Newton to do the photography."
A year into their new store, they set up office's across the road to launch the mail order catalogue. Everyday, they'd had a dozen requests to sell their clothes by mail. Barbara now had the creative freedom to create her looks on paper, and they were confident that having started out doing mail order, they venture would work out. She designed the shape so it was long and narrow in order to fit through a letter box unharmed.


They worked with a number of photographers, models such as Mia Farrow's sister and started to create the iconic Biba makeup which will appear a lot more in our next blog posts! 


The catalogue was so successful when the eventually sent their first one out, that the biggest problem was to write back to 14,000 people to notify them that the shirt they'd all ordered was too popular and would take much longer to make! But more on that later...
Next up on the blog, we'll be sharing snippets of our conversations with Barbara Hulanicki all about her textiles, fabrics, designs and sourcing dead-stock recycled fabrics from the 1910, 20's & 30's!
Click to listen to our 1965/66 Playlist here: https://open.spotify.com/playlist/06c4S1P7rSSubHHK1UFI6M?si=YrpQAkaeSFeAxU2ws6c0hA
We must say, it's our favourite one yet! You can just see the city-scape of London changing from grey, into a full-coloured rainbow in 1965 & 66... the mini skirts getting shorter, the music getting faster and the freedom to dance, be, create and enjoy life and each other were becoming more the norm!
Snippets from this blog were taken from our conversations with Barbara Hulanicki as well as her autobiography, 'From A to Biba', which can be found online here: www.booktopia.com.au/from-a-to-biba-barbara-hulanicki/book/9781851779635.html