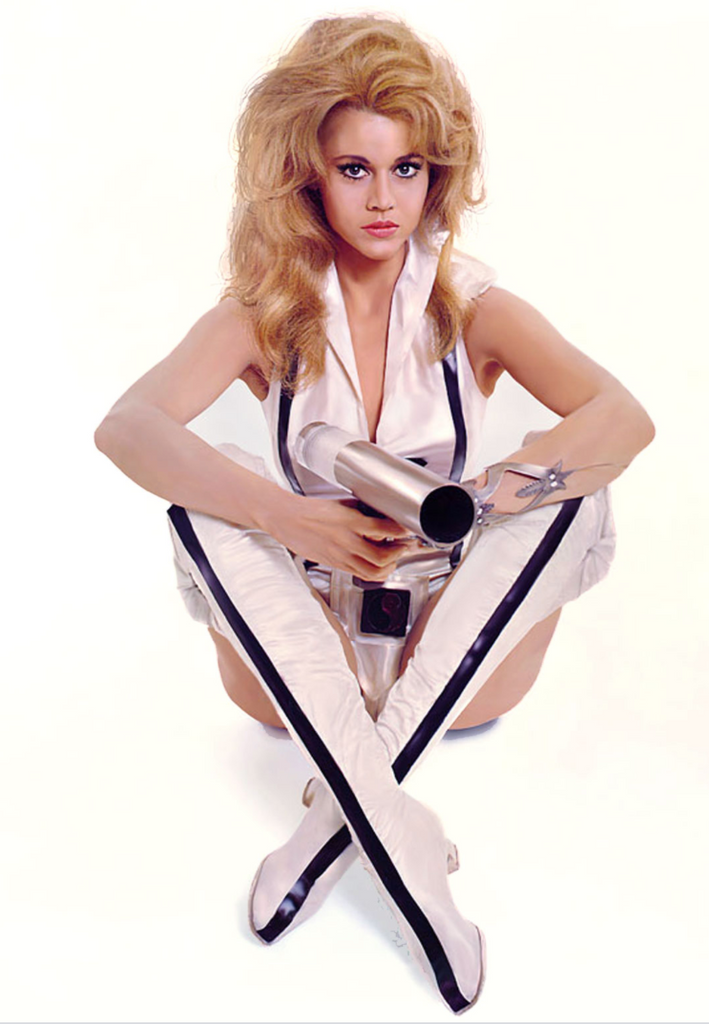 This epic futuristic science fiction cult classic was released in 1968. The film was directed by Roger Vadim, based on a French comic by the same name. Roger attempted to cast several well known actresses including Sofia Loren and Bridgitte Bardot before casting his then wife, Jane Fonda for the role of Barbarella. Anita Pallenberg played The Great Tyrant!
 The film was extremely popular in the UK, where it was one of the highest grossing films of 1968.
Basically, the film is a series of wild (and surprisingly racy) events, that lead Barbarella on a psychedelic trip around the universe, in her bubblegum pink spaceship with shag carpet walls. All set to a groovy late 60's futuristic psych soundtrack made just for the film- of course!
In the movie, Barbarella is a space adventurer in the 41st century, is chosen by the president of the earth to find a potentially mad scientist, Durand Durand, who has created a very dangerous invention that could threaten the safety of the world.  
Our favourite part about this space age movie was, without a doubt, the out of this world fashion. Jane Fonda as Barbarella brought futuristic aesthetic to the cinema and then to the runways and beyond.
Wardrobe designer Jacques Fonterey was tasked with creating the unconventional costumes for Barbarella, featuring Paco Rabanne designs. The decked out bodysuits, risqué space suits and extravagantly vibrant costumes that bring the characters to life, are still inspiring us wanna be space babes today. 
Check out our Barbarella inspired playlist to get your daily dose of bubblegum vibes!!