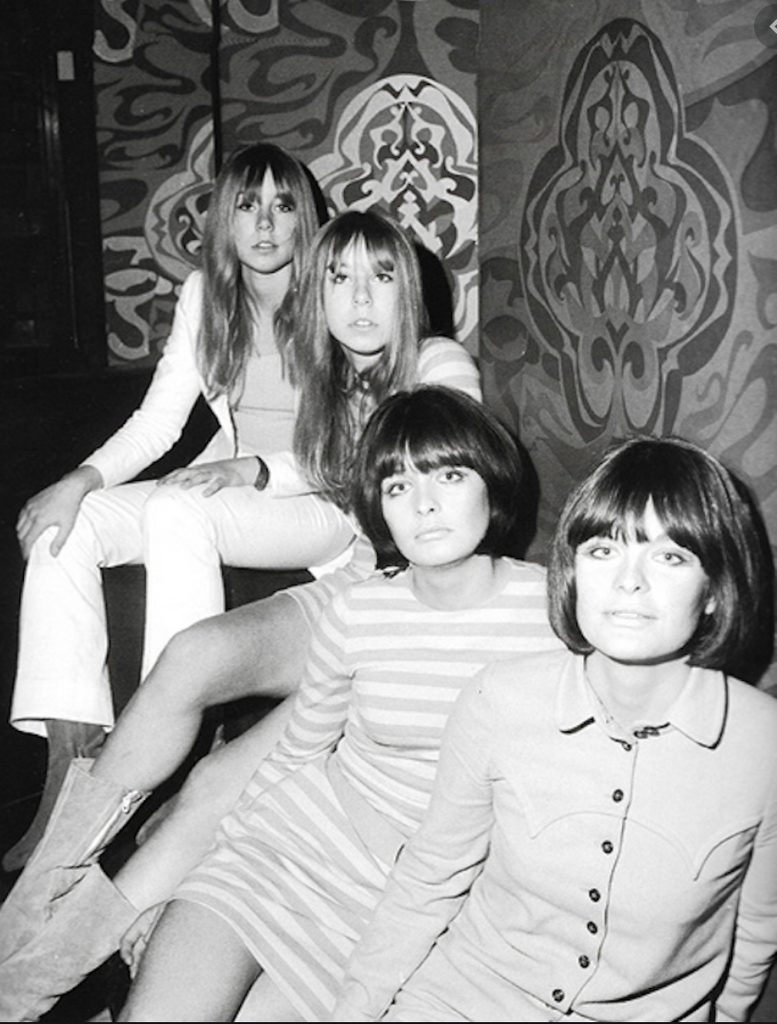 Our first Biba Shop Girl to be interviewed for our Biba Blog Series is Jane Winkworth! 
Jane is known as the 'Queen of Ballet Flats,' having founded her British shoe brand, French Sole, in 1989.
Before that though, she worked at Biba in London in the 60's and has dropped by our Blog to share some wonderful stories from the time she was working there!
To set the scene, we've created a Playlist with all the top songs from 1963 & 1964 which you can listen to by clicking here!

Let's dive in...!
Which store and years were you working at Biba?
"I first encountered Barbara Hulanicki at Abingdon Road in 1964 when they had just opened their first little Biba store there. I must have been 16 or 17... I helped unpack some boxes that had been left out on the street by a delivery driver in a taxi.
I was an Art Student and had little money and they gave me free Biba dress in exchange for helping out that day!"
What was your role at Biba?
I was in and out of the Shop during my holidays and then Barbara and Fitz moved Biba around the corner to Kensington Church Street and it was there that I was offered a part time Saturday job in the basement selling feather boas, hats and boots and shoes!!!"


Image: Biba Shop Girls
At the time, did you know just how special Biba was?
"I came and went as many of us did - but although looking back it seems like a magical time, I don't know if we realised then the impact this change of fashion direction would have on the world.

My most enduring memory is of my last visit to the store, I was buying my 4th pair of long suede boots in pale grey with and pale grey feather boa and a black crepe button up dress with Victorian style puffed sleeves and buttons on the cuffs. 
The music playing was Donovan singing 'Mellow Yellow' (click here to play it) and I remember "grooving" to the music with friends!! This WAS Biba and this was the Sixties…  
For those reading this, just play the song and smell some patchouli, light up and close your eyes - you will be there."
Did you keep any of the Biba pieces you owned, or did you have a favourite piece? 
"Communal change rooms was, at the time, shocking, but we all just stripped off and tried on the clothes. Biba was chaotic and unstructured because it was such a new vibe.
My favourite dresses were the coloured striped T-shirt dresses, I had them all!
Another favourite was a ginger and cream wool dress with a zipped front and a purple velvet trouser suit with huge flares.
I sadly do not have any clothes from that time left, but I will send over some sketches I've made!"
Can you describe any wonderful things or trinkets about the store?
"We all wore long coats to the ground, I had a Biba leopard print one with mini skirts underneath and of course the big black floppy hats.
The smell was intense… a mix of incense, cigarette smoke, patchouli oil and other substances. The boys would all lounge around or hang out outside for hours just watching the girls. I met everyone on the "Scene" at the time - Pattie Boyd, George Harrison, Cat Stevens, Eric Burden, Jean Shrimpton, Twiggy , Cathy McGowan - absolutely everyone shopped at Biba."
 
Image: Jane Winkworth in 1960
"I met up with Barbara Hulanicki many years later after I had become successful with my company French Sole and together Barbara and I recreated a collection of Biba inspired shoes and boots!! We remain great friends to this day.
Now, my 15 year old granddaughter, Bee, who is a real 60's fan, has fallen madly in love with Flare Street and will be grooving around in the flares she has bought from you designed by Barbara!
She is a third generation Biba girl in every sense of the word!"
 
For more information on Jane Winkworth or to view her French Sole shop, click here!
Find her on Instagram here!
To play our 1963 & 1964 Playlist, click here! 
Thank you Jane for sharing your stories with us!
Stay tuned for more on our Biba Blog Series...
Spread the flare-love xx