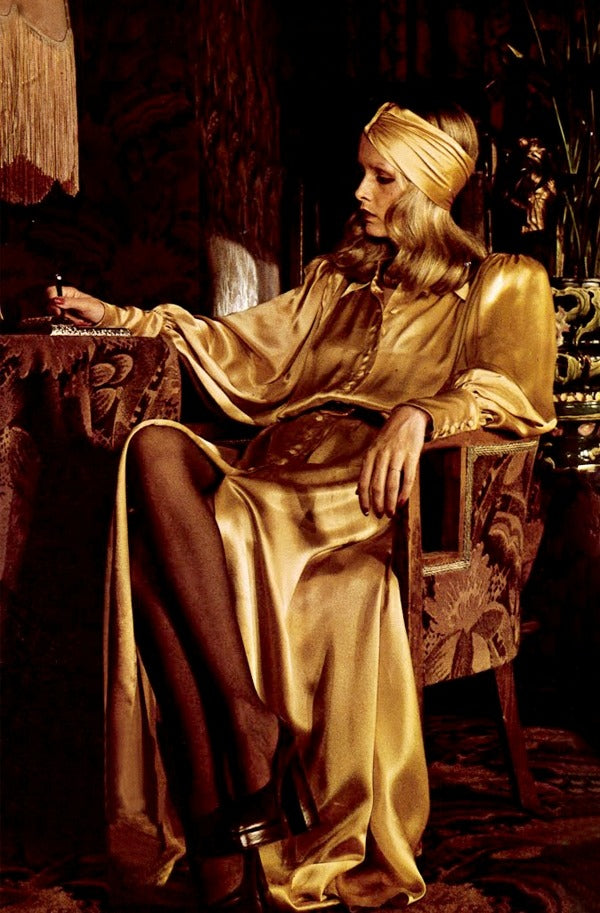 Big Biba… here we go!! The beginning of the end for the most wonderful and lush of all the Biba stores.
Increasing from their little corner shop to a 5 story Art Deco building on the high street of Kensington. This mammoth of a store was fit with a basement for the food hall, a ground floor, mens, childrens, household, boudoir, beauty, restaurant and rooftop garden… ohhh my what a dreamy place!
Big Biba was in the works for 2 years, from originally getting the beautiful Art Deco building to the opening, the team worked tirelessly behind the scenes while also running the other Biba shop. Some of their designers were mixing paint colours for over 2 years, in order to get the perfect shade of browns for the carpet. Others were creating logo's, newspapers and artwork for all the Biba branded items that Big Biba would sell (Soaps, Baked Beans... everything!)
During these 2 years, the majority owners (Dorothy Perkins) sold their business to British Land (property developers) which also meant they had control of Biba too! This was in 1972 and Barbara & Fitz both knew at the time that the right thing to do was to resign, however Biba was at its peak and Big Biba was on the horizon… they couldn't leave!
The Big Biba shop was over 100,000 square feet and they had only 6 weeks to re-create their dream interior before opening! As soon as it opened, Big Biba was full of over a million visitors a week – it was one of Britain's leading attractions! The released the Biba newspaper and took some of the most iconic Biba images there.
On the opening day: "There was serious shopping going on, very soon girls had full bags and were retreating to the sofas to look at their goodies and have a cigarette break. They must have been saving their paycheques all summer for today." - Kasia Charko (graphic designer at Big Biba).
To paint a picture, the front corner of the Ground floor was the 'Casbah' full of wonderful trinkets collected from Beirut, Morocco and Turkey. The 'Shoe Department' was a huge mirrored unit in the middle of the ground floor. 
The 'Boudoir' was full of nightwear and lingerie, complete with a bed, nightstand and communal Egyptian themed change rooms. The men's department was up here too. 
The children's department, Lolita, and the Food Hall were modeled on Disneyland, Barbara wanted them to be fantasy worlds. The children's section had large mushroom picnic tables, castles, a carousel, a story book village and play area's for the kids. 
The music department had a giant, fully-functioning record player. The Household floor was full of pottery, crockery, linens and everything for a comfortable and beautiful home.
On the 3rdfloor was the Beauty Parlor. One of their first babes to get her hair and makeup done was Britt Ekland on her way to the premier for the James Bond film she was in… "her hair looked like a lion's main and her makeup was superb." – Barbara Hulanicki's autobiography. 
The 5thfloor saw you into the 500 seat restaurant of the Rainbow Room along with 2 snack bars full of healthy eating options. Fitz' office was also tucked away up here & he and Barbara would frequently meet up here at 5pm for their knock-off drink! 
Above that was the Rooftop Gardens which had an enclave for tea-rooms as well as the most magnificent Tudor style garden full of installations by Andrew Logan. The graphic design team used to work on the logos and branding up here in the tea room's before Big Biba officially opened. Imaging having your office look out on to that! The magnificent rooftop & scones were a hit with the old-ladies of London! 
For the first 6 weeks of Big Biba, everything was running like a dream… but then came a recession - the minors strike, the beginning of the 3-day working week as well as a crash in the property market in 1974. The new owners, British Land were starting to overshadow all Barbara's & Fitz's hard work and coming in with various decisions, demands and complaints. 
For what was a harmonious partnership with Dorothy Perkins, this new ownership seemed to be the opposite. Board meetings, which were once held yearly, were a common activity, memo's became a constant form of communication and staff were being fired or dictated to by British Land at a rapid rate. Barbara was banned from entering the store and from talking to staff and was forced to sit in her office, design and go home. The girls and her found ways to talk and communicate, but she knew her Biba dream was over. 


Harsh bright lit signs started popping up all over the store which was original dark and moody, white shelving units were put in and clothing began being bagged in poly-bags so you couldn't touch the garment… the wonderful black trimmed plates and cups of the Rainbow Room were replaced with paper cups which ended up being littered all over the floor. People started walking out with Art Deco lampshades, no body cared anymore. 
From the lush and opulent dream and past few years of reality of Biba, this really signified the end. 
Barbara ended up bowing out, defeated and Fitz stayed on for a bit longer. Not long after both of them had left, British Land finally realised they'd ruined a beautiful thing and decided to close Biba. They then sold off Biba cosmetics separately and the Biba brand to a new owner. They auctioned off the entire interior of Big Biba, which was picked up by private collectors as well as museums such as New York's MOMA… 
Biba had a huge sale with piles of clothing on the floor, and closed officially in August 1975.
After that, people offered to work for Barbara and Fitz for free, no one wanted their dream to die!
They didn't go back, instead they moved to Brazil in 1976. As Barbara and Fitz were boarding their flight, the desk-phone rang through and it was Twiggy wishing them luck. They then moved to Miami, USA where Barbara focused on interior design – one of her first gigs was Ronnie Wood's bar in Miami! 
When Nik asked Barbara if she had any Biba pieces, she said sadly at the time, they got rid of everything, including their apartment and took nothing to Brazil… she also mentioned that was quite silly, 'have you seen the prices the pieces are fetching today!' 

We're so sad that this marks the final post in our Biba Blog Series, but we hope you've enjoyed the journey! 
For further reading and an amazing resource we'd suggest checking out Kaisia Charko's blog (she was the Graphic Design artist) here: https://kasiacharko.wordpress.com