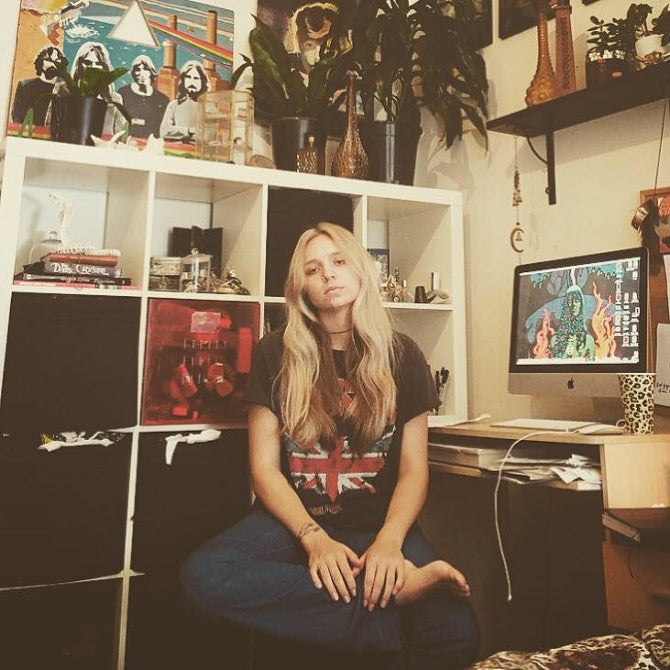 We came across Jas's amazing throwback graphic design work a while back on Instagram. Naturally, when it came to designing a print for our next collection and Fashion Week, she was the first girl we called about bringing our vision to life.
We were already on the same wave length of good tunes, flares and 70's earthy tones so constructing this print went along the lines of "Wow, you nailed it in one go!!"
If you haven't seen her work, follow the links below and delve into her magical world of celestial dreams and art deco inspired pieces.

We had a chat about her work, inspirations and our exclusive designs and wanted to share it with you all!
What is your favourite music genre?
I am a massive sucker for old rock and roll. Led Zeppelin, Fleetwood Mac, Tom Petty, The Rolling Stones, Rod Stewart, Janis Joplin. I'm eternally in awe of things out of the 70's.
Where did you get the inspiration for this print from?

This particular print was inspired directly from the legendary artist, Peter Max. All things stars and rainbows, how could you ever top that!?
What is your routine as an artist?
First, I like to get a vibe of my clients - whether it's a brand, band or small vintage shop. We chat back and forth with them until I know their direction. I've always been an early riser so I seem to work best in the morning, 6 am till midday when everything is fresh. I seem to slow down in the afternoon and save that time for when I'm not as creatively inspired and use it to pack my orders of prints and update my website.
What outfit would you wear on stage if you got the chance to boogie up there? Would it be different from your daily outfit?
My daily outfits align a lot with my work: 70's everything, flares and earthy browns and oranges. If I had to take to the stage it would be all of the above… Flares and leather tassels everywhere!
If you could describe your first impression of our flares in one word, what would it be?
MAGICAL!
You can find more of Harley & J's wonderful work on her website here and Instagram here! 
And if you haven't already checked them out, the designs on our Dhana Dreams and Azura flares can be found in our Cosmic Velvet range here! 
*Images sourced from www.harleyandj.com *