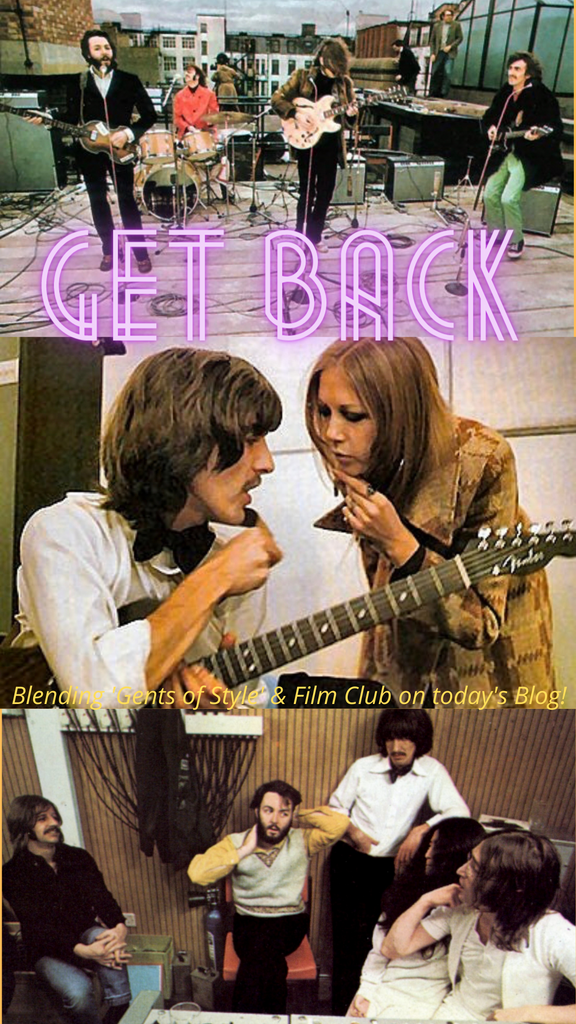 Hey there flare-lovers, have you tuned into the new Peter Jackson documentary series, 'The Beatles: Get Back'?
If you haven't, strap yourself in because it's 468 minutes (close to 8 hours) of good times!
Have you ever wanted to be a fly on the wall during one of The Beatles writing sessions, jams or final public performance? Well now you can!
We know that you know we're big Beatles fans here at Flare Street & in our humble opinion, 8 hours just wasn't quite enough! We need more... more of gorgeous George, Yoko & John dancing, Paul's song writing magic and just generally more Ringo!
In today's blog, we'll be blending our 'Film Club' & 'Gent's Of Style' blog series together to chat about everything we loved during the Get Back sessions... from Ringo's fabulous shirts to George's furry jacket, John & Paul's Biba tee's and a glimpse of Pattie Boyd's, Maureen's, Linda & Yoko's style! 
It seems that purple was a big colour in 1969! Between George's shirts, John's tee shirts, Ringo's suits... there's no wonder we're attracted to purple flares at Flare Street! We just loved it. 
Paul's style was epic, a mix of 60's classic. But did you catch little Heather? Linda's daughter in her gorgeous pinafore & high neck paisley top! One theme that emerged with Paul was his love for long coats, and wow did they look good! Another was the colourful turtle neck in orange or yellow, followed the next day in a classic long sleeve shirt & vest. 
For the first part of the series, John is very consistent wearing a light purple Biba tee with a vest on top. Unlike the others, John wears more white through the picture with pops of colour here and there. Borrowing Yoko's fur coat for the rooftop show, John looked fabulous!
Every day was a fabulous day for Ringo style during the sessions. Some of our favourite pieces were his colourful paisley shirt, pinstripe suit in dark blue and light blue stripes, and for the final rooftop performance, a red mackintosh!
George's style was subdued on some days, sporting fabulous Ugg Boots popping out from under his ensemble. On others, he turns up in all his glory, wearing one of his fabulous hats, pinstripe suit, purple bow tie or dreamy neck scarf! A constant piece that re-appears is a black furry oversized jacket which he wears during the final performance. 
What's not to love about Billy Preston! The 5th Beatle that blended so many songs together through this innovative, funky piano style. Most days sporting a turtle neck & suit jacket, Billy stole the show with his craft and dashing smile in many parts & we loved it!
A surprise style icon was the recording engineer Glyn Johns. As each day passed his outfits just got more an more fabulous. Rocking up one day in a Hung On You Coachmen Jacket in yellow & black! The next was a beige outfit from head to toe with an oversized furry jacket & 60's round glasses... dreamy style Glyn Johns!
During the part 2, Pattie Boyd graced our screens wearing a maxi-length jacket (we think it was by Ossie Clark) and a gorgeous tan leather handbag. We wished we could see her more of her and George!
Yoko Ono wore a fabulous one-piece in black during Part 1. It was very similar to a piece by Mary Quant that was at the recent exhibition! You can tell Maureen is a big fan of the band, with her Swinging 60's bangs and mini skirts, she looked fab amongst the Fab 4! Linda McCartney was so dreamy to watch, with her humble yet cheeky smile. Apart from Ethan Russell, Linda was the only other photographer that took pictures of the Get Back Sessions. 
The amount of colour in their clothing was amazing to see, especially when you see the street shots of passers-by in the streets below. With that footage, it's easy to see how important The Beatles (and the Boutiques of the 60's) were in changing the style and way that people expressed themselves through clothing, fashion and music. 
We hope you loved tuning in to todays Blog, and the Get Back sessions. Pop onto our Instagram and Facebook to let us know what you thought of the 3 part series!
For many more images, head to our Pinterest page here!
Spread the flare-love xx
Credits: 
Film and direction for 'Get Back' was originally done by Michael Lindsay-Hogg in 1969.
Images were captured by Ethan Russell & Linda McCartney. 
Production by Peter Jackson.