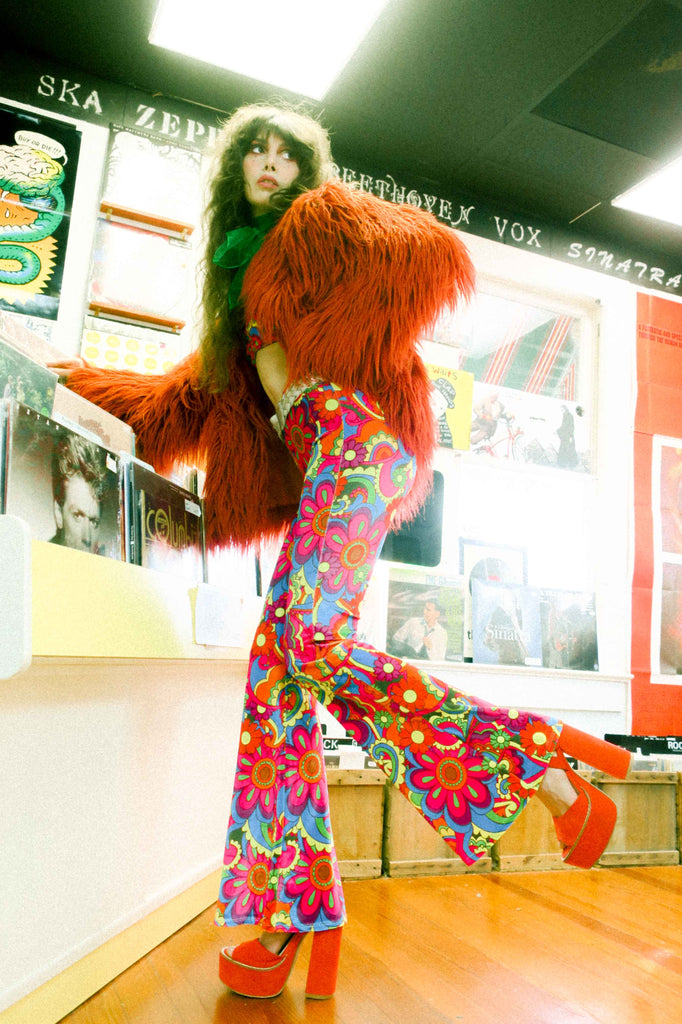 Scrolling through Storm Calysta's Instagram is like falling through Alice's looking glass into a psychedelic world full of vibrant colours, sparkles, lots of swirls, lava lamps and all the while an underlying theme of fabulous style!  

Storm was snapped recently at her local record store in San Antonio, Texas in our Lovadelic Rainbow Juniper Flares & matching bralette. We chatted to her about her favourite music, style and main inspirations.
Find out all about this wonderful lady below!
What is your favourite music genre?
I tend to be really drawn to 60's psychedelic rock & folk music these days. Such as bands like - The Beatles, Tommy James & The Shondells, The Rolling Stones, The Beach Boys, Cream, Jefferson Airplane, Strawberry Alarm Clock, The Electric Prunes, Donovan, The Chocolate Watch Band, The Smoke, The Rainbeaux...
(click the band names to listen)
Where did you get the inspiration for this shoot from?
This was shot at a record shop that I spend a lot of my free time hanging out at. The shop has an authentic 60s/70s vibe, which I felt went perfectly with your psychedelic retro styled flares. Also, the bright orange walls really went with the rainbow colors in the fabric pattern. I feel like this shoot accurately represents a typical day in my life.
What is your routine as an artist?
Depends on the project & day. Whether it's music or visual, everything starts with a small inkling of an idea. From there, it either soars or I later end up rejecting the idea. I've come to realize that the ideas that flow easily & quickly tend to have the best results, sometimes if it comes with too much of a fight it's just not meant to be.
What outfit would you normally wear on stage? Would it be different from your daily outfit?
I always dress on the bit more of the eccentric side, but as for stage wear I think vibrant colors, interesting silhouettes & sparkle definitely add to allure of the show. More is more in my opinion, when it comes to stage wear.
If you could describe your first impression of our flares in one word, what would it be?
I thought the pattern that Golden Daze created is so stunning. I was in awe of how vibrant the colors are & how soft the velvet fabric is. The Lovadelic flares exude the essence of psychedelia.
Captured at Stingray Records, San Antonio, Texas USA
Find the links to Storm's Youtube and Instagram below:
Storm Calysta Youtube: 
www.youtube.com/channel/UC8pIWGnwC1WY4p9jwXWWHdA
Instagram: www.instagram.com/stormcalysta/?hl=en
Our Lovadelic Rainbow Juniper Flares were hand drawn by Golden Daze and can be found online here with their matching bralette!