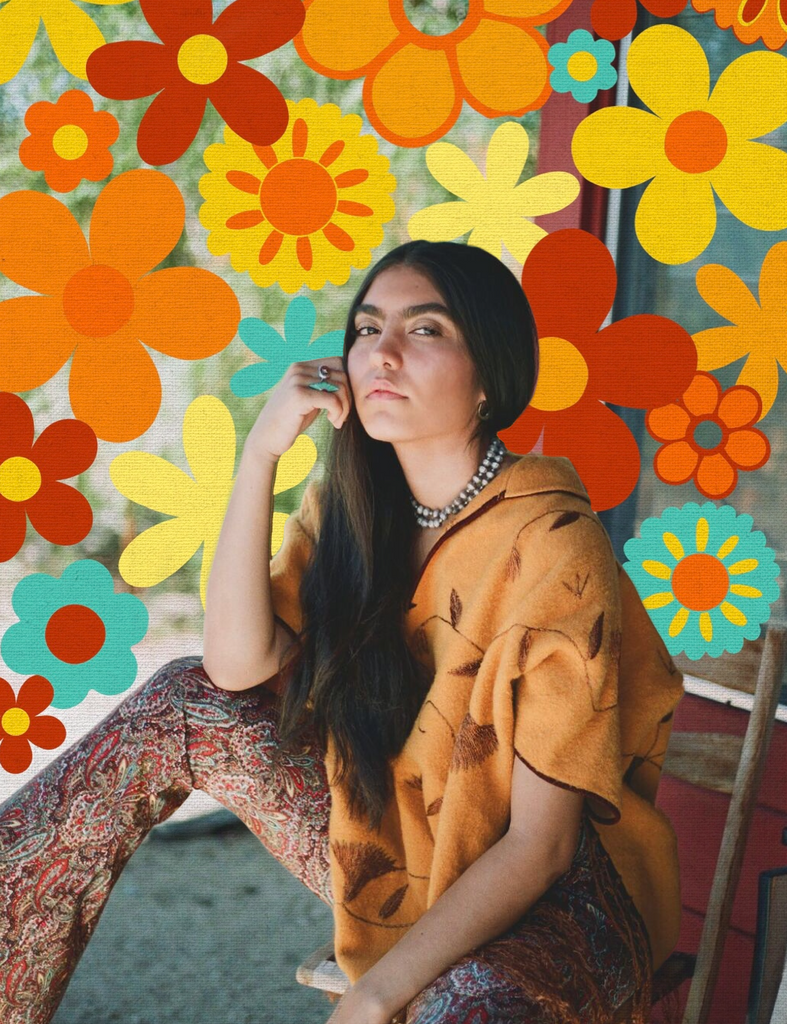 We came across Jade's amazing collage and illustration work a while back on Instagram, she caught our eye with a magical collage of Pamela Des Barres. Naturally, when it came to working with an artist for our most recent Transcendence collection, we headed straight to her!
If you haven't seen her work, follow the links below and delve into her magical world of colour! 

We had a chat about her work, inspirations and Flare Street pieces. Have a read of it below:
What is your favourite music genre?
I have a very eclectic taste in music but my ultimate favourite, the air that I breathe is definitely mid to late 1960's Rock 'N' Roll - as well as Folk music, my happy place.…. I'm that girl who dreamt of being in a Fleetwood Mac cover band (and secretly still do) 
Where do you get the inspiration for your prints from? What inspo did you draw on for the Flare Street edits?  
I am heavily inspired by the musicians I grew up listening to & fell in love with from an early age, which is mainly the 60's and 70's.
It's an added bonus that both of these era's are incredibly visually appealing and outrageous! My illustrations are inspired a lot from groovy vintage posters, vinyl album art and flower power!!
Apart from that, inspiration can strike anywhere, anytime! A lot of the time it's in the middle of the night.
I have been a massive fan of Flare Street since the beginning of time so when you guys reached out to me to work on some images I was ecstatic!
I've always felt a strong nostalgic, retro vibe from Flare Street, and the new collection felt the same, but it also transcended me to a very earthly place… Mother Nature's sacred space where flowers bloom under a sun kissed sky... I wanted to capture that natural essence of beauty that these gorgeous flares represented to me. 
What is your routine as an artist?
As a freelance artist it can be hard to get into a routine but I think I juggle my time evenly. I always like to leave the morning free to run errands, spend time in nature, find inspiration and then get stuck into work in the evenings. Work cannot commence without coffee and some groovy tunes. 
What's your favourite outfit and style?
80% of my wardrobe is vintage clothes full of floral, polyester and obnoxiously bright prints - very Haight & Ashbury inspired. I love wearing long 60's dresses, vintage scarves, fur hats, chain belts, anything retro and bright! I dress somewhere between a mod mama, psychedelic peace freak and a flower child.  
If you could describe your first impression of our flares in one word, what would it be?
Oh that's not fair! I could think of so many!
The main one that has always struck me first is: DREAMY  
Click here to shop these flares!
Art and Interview with Jade Dandy @jadedandy
Images of Andy Lua & Emily Landers
Captured by Conner Sorensen in Joshua Tree, California.