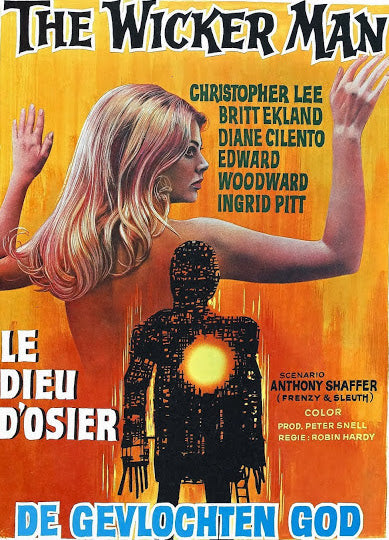 Film Club is back this week with The Wicker Man! In this 1973 cult classic film, a lone police officer played by Edward Woodard finds himself on Summerisle, a small Scottish Island in search of a missing child.

While on the island, he realises that there are strange happenings that are far from the christian ways in which he lives. He searches the island top to bottom for the missing child, all the while trying to avoid falling into the temptation of the pagan practices of the islander that are particularly carnal and largely directed at him.


Willow played by our favourite 60's & 70's babe, Britt Ekland, is especially interested in striking Sergeant Howie's fancy, with her outwardly erotic displays. Of course, he falls into the role of the fool and finds himself at the mercy of Willow's father, Lord Summerisle played by Christopher Lee.



The movie is littered with glimmers of what was current fashion paired with ultra traditional Scottish clothing. Our forever muse Britt Ekland's character, Willow, goes between wearing little 70's summer dresses and very innocent peasant blouses paired with long flowing maxi skirts.




Sue Yellend, the costume designer for the film, was tasked with creating epic modern yet traditional ensembles for the biggest scene of the film, The May Day ceremony. This is where the entire island comes together, each in a different and eccentric costume, to give a sacrifice to The Sun God.

This movie inspired, and still inspires, so many after it, including Midsommar which came out just last year. It's said to be one of the top 10 horror films of all time!



And if you're still wondering…yes, it's worth the watch and yes, it's just as spooky as it sounds!  
Play The Wickerman inspired Playlist here... it's inspired by the witchy vibes, folk energies and Britt Ekland of course!

For more images, head to our Pinterest here!