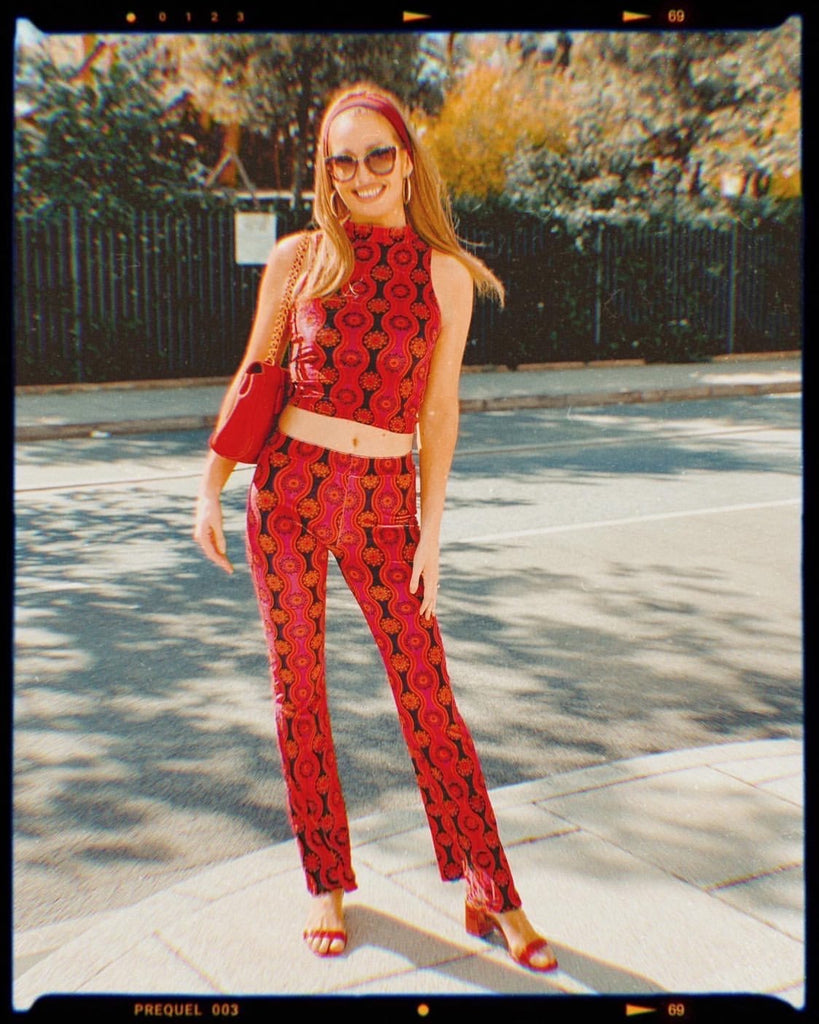 If you're searching for fashion inspo, look no further than modern day vintage queen,
Vintage Glamour Mama- Lizzie
. Always inspiring with her beautiful and creatively put together looks, straight out of the 60's and 70's. This East London girl is absolutely fabulous! We had the chance to catch up with Lizzie and ask her a few questions about where she draws her inspiration from and what's been keeping her busy these days....
Check out her interview below, as well as these gorgeous photos snapped of Lizzie in her
Pink Ophir Flares
and
High Neck Top
grooving in the streets of London! 💓

What is your favourite music genre?
My taste in music is quite diverse.. I grew up with my dad playing a lot of 70's Disco and Funk so I have always loved that.. but I also love rock'n'roll from the 60s and 70's. My husband loves the Beatles so that has definitely rubbed off on me too! I love old school dance music because it reminds me of my teenage raver days when we would go and party in abandoned warehouses and fields!.. I love a bit of old school Hip Hop too.. I listen to Jazz sometimes, so it's diverse.. I guess it depends on my mood.



Where does your style inspo come from?
I was a very shy child and I think I saw fashion as a way to express myself, so I always had a desire to dress differently to others. Film, music, photography, babes from the 60's & 70's and just my friends in general inspire me. I love being creative and putting different combinations together. My mum would despair when I was young because I was forever customising, cutting, changing things up. And now I'm 32 that hasn't changed! I'm still always putting my own twist on things.  A lot of my friends run small independent labels so I like to support them and rock their amazing designs.



What is your routine as an artist/creator?
Being creative feeds my soul.. it's one of the few things that makes me switch off and tune in. So I try to make time for it everyday. We've now been in lockdown for 2.5 months so like everyone else, our routine has been completely thrown up in the air! (Not that I'm the best with routine.. I don't particularly like doing the same thing everyday! But we all march to the same beat in our home, so it always works).


At the moment I have the kids home everyday and I am homeschooling (which I actually love! My 10 year old stepson is a joy to teach and it's made us much closer which makes me so happy. My 3 year old daughter takes a huge amount of attention so that has been trickier to juggle, although obviously this age is so precious and she melts my heart everyday!.. mostly my 'work' and creativity has been pushed into the evenings and I stay up late into the early hours to get everything done, but I've always been a night owl so it's all good...


What would you wear on stage? Would it be different from your daily outfit?
Ooooh fun! Ok if I was a rockstar... I would dress exactly the same as now but just exaggerated.. higher boots, bigger hair, brighter lips, loads of velvet and sequins.. Studio 54 vibes.


If you could describe your first impression of our flares in one word, what would it be?
Psychedelic 🌈