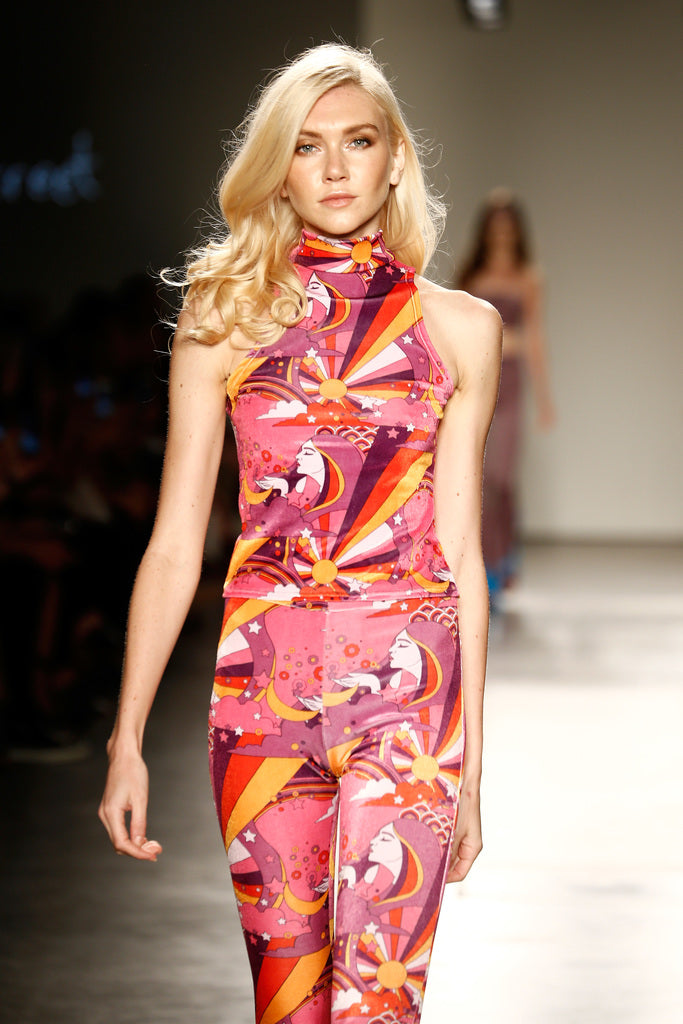 Here are the full images as the girls rocked the catwalk at NYFW. Up close pics of our new Cosmic Velvet fabrics snapped by professional photographers for Getty Images as the girls moved and grooved in our new collection. 
We'd love talking about our fabrics, printing ethics and inspiration so have a read as we explain the details of these Flare Street pieces as you scroll. 

For the last few years, all we've had in our mind is to create a Peter Max inspired velvet dream. We worked with Jas from Harley & J to bring this dream to life, mixing the Peter Max iconic sun motif with Jas' unique celestial prints. As a nod to the late 60's we chose a bright, psychedelic colour palette (our Astro Blue colourway), for the 70's a Terra Nova Rust and a modern day take of Cotton Candy pinks. 

Our silk style chiffon capes were printed in Melbourne with a large image of the Dhana Dreams design. 
Our classic Azura Flares are a staple for the flare-lovers out there. Seen here with delicate fringe details and a matching high neck top, this print is featured in the Dhana Dreams print and their colourways match too. We added fringing for the show but message us if you'd like a custom order, they add extra length and extra glam!
Our Hendrix Night's flares feature a very, very special Moon Lady motif. Hand drawn by Nik's talented sister, Shell, she sparkles brightly between a falling galaxy of twinkling stars. Our Moon Lady embodies power, independence and encourages you to dream big and reach for those stars. She's alluring, calming and nurturing and inspired by the latest tattoo that designer, Nik, created. 
Hand patchworked wide-leg flares. These beauties are authentic patchwork, taking 24 hours to make. We hand-cut each velvet piece, ensured the colours ran the right way, placed the pieces perfectly, sewed the panels and then turned them into our latest design of wide-leg flares!
The runway at the end of the show featuring all our Cosmic Velvet designs and wonderful models. 
Nik hand made this chain belt in the NYC garment district a few days before the show. 
All of these velvet fabrics are commissioned pieces of artwork making them so, so unique. We work with a sustainable printed in Sydney and sew all our garments in Melbourne.
Have a read about our fabric printing on our product pages of any Cosmic Velvet piece.  

Front row ladies! 

Rhyme in our Azura Flares in Terra Nove

Designer, Nik Shimmin, in a custom French Lace Flare set
For a full album of the show head to Getty Images here or have a peak at the film recording of the runway show here: