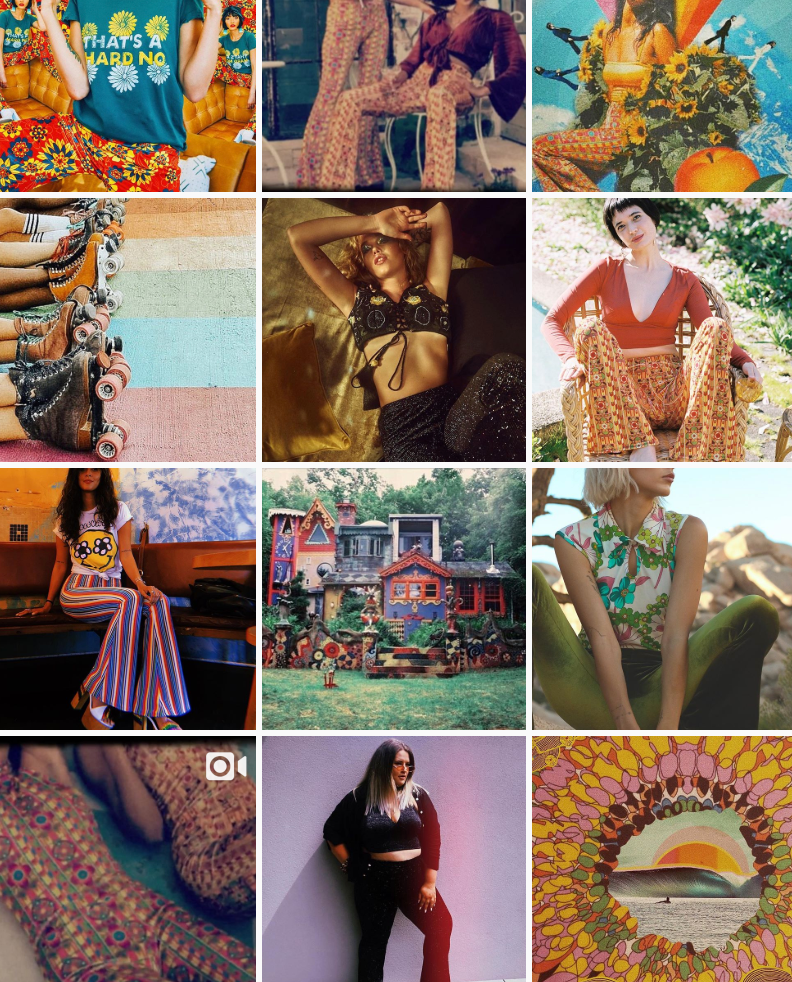 As a HUGE, MASSIVE THANK YOU we're having a 4-hour sale tomorrow! And a giveaway, because we're just too excited about this!
Starting at 6am AEST for 4 hours, jump on our site to snap up your favourite flares! We're running low on a lot of styles and sizes, so we can't guarantee they'll stick around for long. This sale is also valid on ANY of our pre-sale items too!! 
We also thought we'd do a little throw back to 2013, when we had 30 flare-lovers on our Instagram, we were scouring our suppliers for velvet, making our first pair of flares and wondering where this journey might lead... 
We thought we tell a bit of a story about the beginning with a few grainy, old phone pictures...
With the help of our super old Blog Spot account, we were able to find a picture of the first ever flares we sold. These were called Scooby Doo, made from Orange Burnout Velvet and headed to our very first customer ever. Her name was Johanna and she lived in Florida, USA. I remember this vividly, because I'd just opened up Flare Street on Etsy and wasn't even sure if anyone would be interested in flares...  Turns out, there was at least one more flare-lover out there! 
Johanna is still a treasured customer of ours, I think her Flare Street collection is up to about 30 pairs these day! 
In the first few months, my sisters, Mum and I had a little party to celebrate having 30 flare-loving followers on Instagram. It's funny to think about that now, it was a really big deal to know there were at least 30 other people out there who loved flares as much as me!
Below is our very first Instagram post EVER. This was June 2013, I'd made an account and started posting the flares I was making from my mum's kitchen table, her apartment was FULL of fabric and machines after a matter of months!
I remember at this time, the hashtag #bellbottoms had been used 8,000 times. Having a quick peek in early 2019, the hashtag is sitting on 140,573.... That's a LOT of flare-love in 5 years! 
Our Amalia Flares that we've just released were inspired by our very first flares. We only had one of these and it was an Indian block printed fabric with elephants dancing around the trim. 
As our Etsy store was growing, my beautiful little sister, Ash and I, staged our first ever photoshoot. We had some wonderful helpers as well and these pictures are still some the favourites! 

The fabric in these pictures was SO SPECIAL! We didn't tell you all at the time, but it was a dead stock fabric we'd picked up from Prada. A beautiful Italian made fabric, designed by Prada and it was seen dancing down Milan Fashion Week catwalk just months before... we really hit the jackpot with this beautiful knit. We sold so soo much of them that it gave us the funds to really get Flare Street going.
Due to these sales, we were able to buy a new machine, which cut down the time of making a pair of flares from 4 hours to just over 1 hour. We could purchase fabric we'd dreamed of buying and much, much more of it! 
In 2013 and 2014, when we first started looking for velvet, it was so hard to find! Below is a picture of Ash, at Paradise, a beautiful forrest near Apollo Bay. Whenever I came across velvet, I snapped it up. This was a really rare Italian burnout velvet. There's no wonder why our current range is mainly velvet, it's just too lush to pass up!
I remember calling one of my suppliers and begging them for just a little bit more. I'd sold out of my favourite velvet fabric and hadn't kept a pair for myself... they called back the next day and had good news! They had the tiniest amount of fabric deep in their warehouse...It was enough for one last pair. I still groove around in them, they're 5 and a half years old and still going strong.
The end of 2014 and beginning on 2015 marks a whole other stage in Flare Street's life... we'll have to wait for another big celebration before we throw-back to that time!
We can't thank you all enough for all the love and support that you've sent our way.  There was no way, in 2013, that we thought Flare Street would ever have 40,000 flare-lovers on one platform... it is just amazing for us to think about!
We can at least have a flash-sale to celebrate and a giveaway!! 
Stay tuned on our Instagram for more info!
Spread the flare-love xx