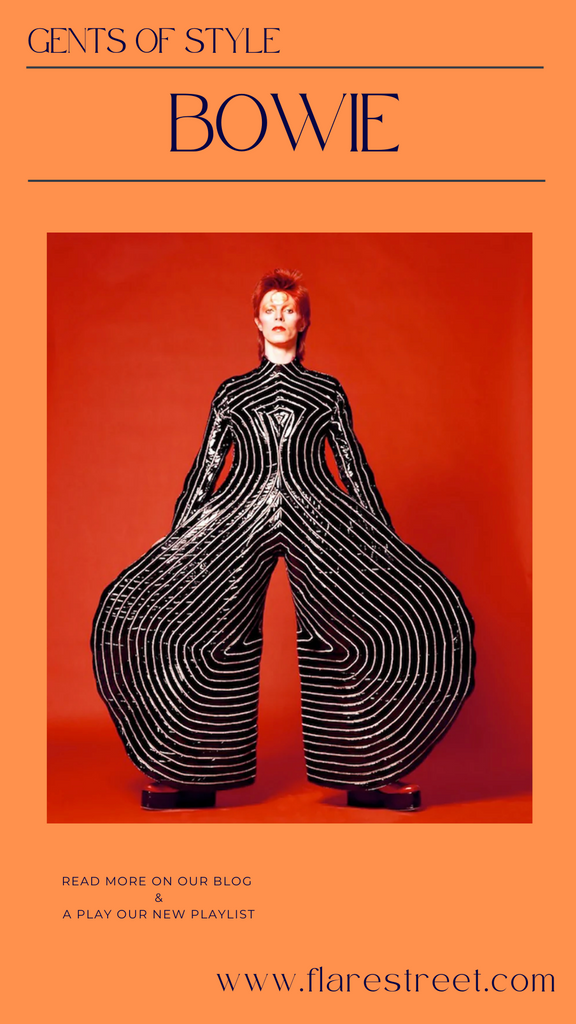 The Starman.... born David Robert Jones in England in 1946. He grew up loving music and when he was 13 he started taking saxophone lessons. His brother Terry is who exposed young Bowie to rock music and inspired him to want to play in a band himself.
Once he graduated high school when he was 16, he began work as a commercial artist. He then joined a few bands including the first band that he lead, Davy Jones and the Lower Third. He didn't gain much fame from his first few bands but to avoid being mistaken with Davy Jones (of The Monkees) he changed his last name to Bowie.
Thus- a star was born! Well, only after an attempt at a solo album, and then Bowie took a few year hiatus to focus on his art, start his own mime troupe and even live at a Buddhist monastery... 
Finally in 1969 Bowie emerged back into the music scene full time. He released 'Space Oddity' and the song quickly gained him the recognition that he was hoping for.
After that, he released 'The Man Who Sold the World' in 1970, which took him to the next level in the rock world. Of course, once he gained the fame he needed to keep the world guessing, his fans and critics alike. 
He introduced us to his alter ego, Ziggy Stardust, dressing in wild costumes and braking all social norms - particularly for masculinity. 
After a few years of elaborate costumes (many of which were designed by Japanese designer, Kansai Yamamoto ) and stage designs, he morphed back into a closer version of who he had once been, though he kept up his glam-rock style! 
He went on to produce albums for Lou Reed and Iggy Pop and collaborate with Mick Jagger and Kieth Richards! He also starred in films, 'The Man Who Fell to Earth, 'Labyrinth', and a broadway production, 'The Elephant Man'.
(Read about it on our Film Club here!)
Bowie was ambiguous in everything, from his outfits to identity. His ambiguity was a sort of rebellion that enticed and entranced the world. No one had ever seen anyone quite like Bowie before he came along. He was a striking epitome of androgynous confidence. Many of his most memorable looks have inspired everything from movies, makeup & entire collections of art and fashion.
David Bowie was the king of reinvention. He was the definition of iconic. Always reminding the world that it's never too late to be exactly who you want to be! 
Play our Bowie Playlist on Spotify here!