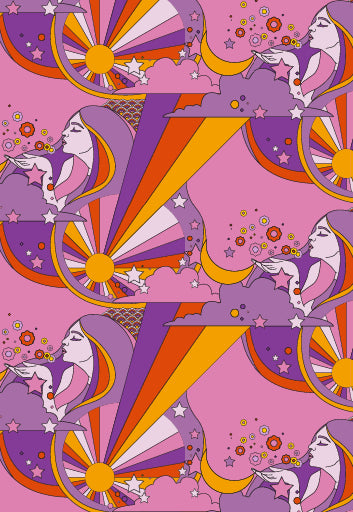 In the last 2 years, we have started to produce our own Exclusively Designed Flare Street Fabric! Have a read of todays blog post to learn all about the design process and how these prints come to life.


How do you pick which designers you want to work with?
We fall in love with designers and their artwork all the time! The concept behind our exclusive designs is to bring beautiful pieces of artwork to life, to enjoy them as a wearable item and use that as an extension of the wearers uniqueness. We often say that wearing these flares is really just grooving around with artwork on your legs!
Our aim is to rework concepts from the 60's and 70's with modern colours and structures, and decadent textures.
Can you run us through the main steps in the design process, from conception to garment?
If it's a collaborative piece of artwork, there are a few major steps that we take:
Firstly, the designer Nik and the illustrator will collectively agree on the key inspirations and then create a theme or story based on these inspirations. For example, our recent designs for Cosmic Velvet, with Harley and J, were based on artwork by 1960's designer Peter Max.
From there, the illustrator brings in their magical touch and creates final design. The colours and scale are guided by Nik, from the perspective of what would look best as flares & what our flare-lovers like – eg some images get lost if their too small or some colours are more frequently worn.
It really is a collaborative process the whole way through!
Here are some of the original edits from the Cosmic Velvet Range, you can see the change in scale, colour and placements:
Why do you choose to work with a sustainable fabric printer?
It all comes back to the environment. The idea of flushing harsh chemicals down the drain, into our rivers and ocean is not something that we want to contribute to! It took us a long time to find a printer that cares as much about this as we do. Our printer ensures that:
Printed using water based inks 
No harsh chemicals used
Inks disposed of accordingly & not poured down drain
Recycled paper and plastic used throughout printing and shipping
Why do you choose to release only one exclusive Flare Street designed collection a year?
Fashion is constantly changing and evolving, but some things are always present and we try to create meticulously designed garments that people will want to hold on to forever, through all seasons.
Our flares are designed to be trans-seasonal and we achieve this through the use of different colours and fabrics. Our flare-lovers live all across the world, wear their flares throughout the year and to all kinds of occasions: birthdays, snow days, work, lounging around, festivals… you name it!
What's next? Can you give us a hint?
We'll be placing a huge focus on exploring more sustainable fibers and printing on recycled fabric – that is fabric that is made from collected pollutants and plastics from the ocean and turned into a beautiful, wearable fabric.
Design wise, we can't say yet but we are so excited about the designs and designers coming! You'll just have to wait though…
It's a surprise tomorrow for Day 5 of Fashion Revolution Week! Stay tuned!