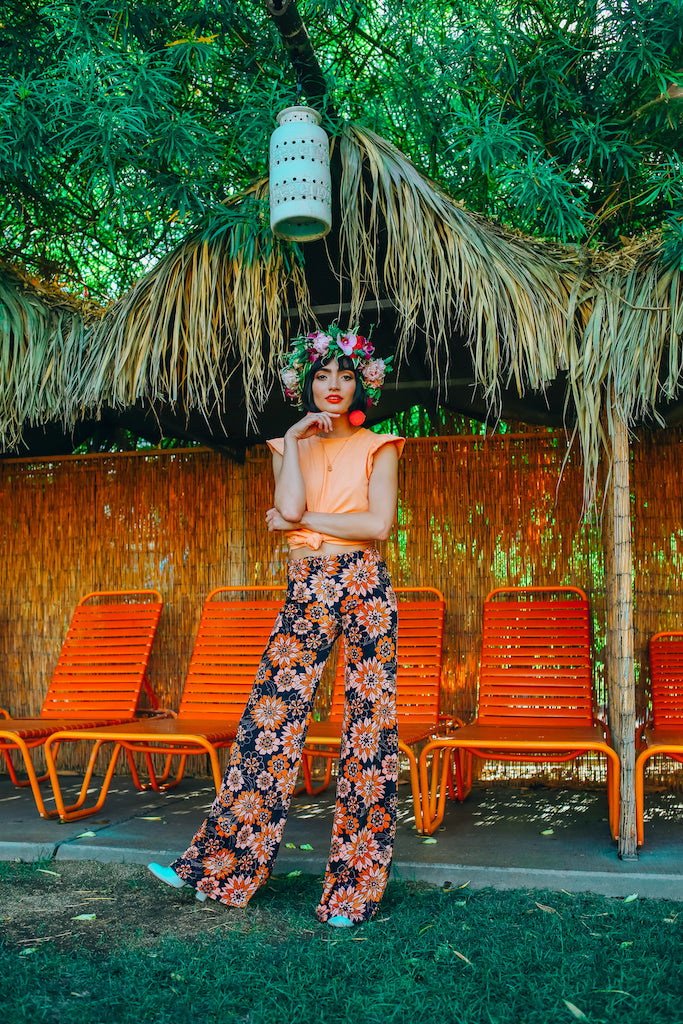 A chance meeting at a coffee shop on Sunset Boulevard, LA, was how these beautiful flares started their life! Nik, our Flare Street designer, bumped into Dani from Dazey LA sipping on a morning coffee and after chatting about their brands and slow fashion ethos, the idea of a collaboration came to light. 
Dani draws beautiful designs and had spent years as a graphic designer, but was looking at creating a textile for her brand and Nik LOVES nothing more than turning artwork into flares! Within a few hours, Dani was back at Nik's Air Bnb, trying on flares, getting into the groove of velvet and snapping pics... By the end of it, it was decided, Dani would create the retro print and Nik would create the flares - on velvet of course!

The flares are available now for pre-order in a retro Orange & Green as well as a Brown and Pink colourway. We've made these in our original flare design as well as the new wide-leg flares, both in velvet and both super comfy!
We're currently printing the fabric with our Australian based sustainable printers, so they will be ready for you to groove around in super soon!
You can shop them on our site here!
And check out Dazey LA's store here!
Spread the flare-love xx