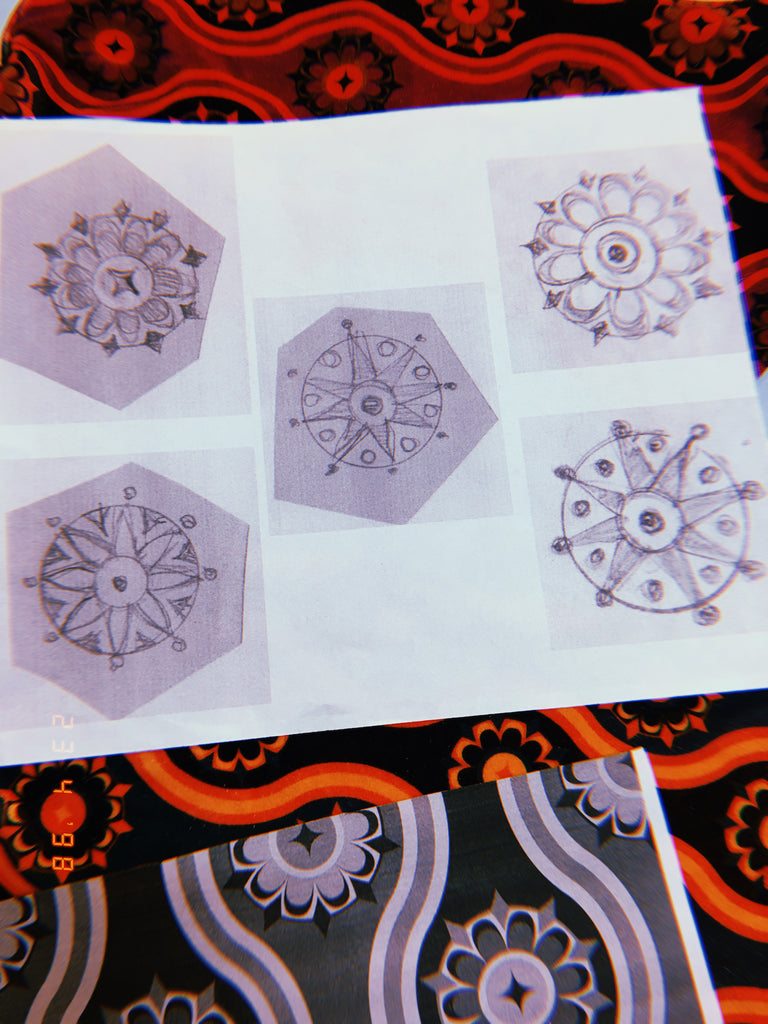 This week we're celebrating Fashion Revolution week! Don't worry, Biba is still incorporated, this weeks blog post is all about our design process with Barbara Hulanicki… the process from sketch to flares and choosing our new fabrics!
We'll also delve into what Flare Street has been working on since last years Fashion Revolution, and it's a lot! 
The design process with Barbara Hulanicki Fabrics!!
We started this wonderful connection quite a while ago. Having gone down a rabbit-hole of Biba loving, we dreamt of working together with Barbara Hulanicki on a textile and our dream came true! For the first few months, we just chatted all about her design days at Biba (which we published on our last blog) as well as our own journey and sustainable practices.
After a number of months of fabulous conversation, we got down to the design and decided to create a sketch from scratch. Below you'll see the original sketch, we selected the top left motif.
We love how long people's legs look in our flares, and so we created a design with Barbara that allowed for an even longer leg look by drawing the curved lines down the leg.
Once we had a general idea, Barbara worked her magic and came back with one of our favourite prints to date! In keeping true to Biba, we picked colours that were reminiscent of their designs – focusing on rich, dark tones, chocolates, pinks and of course orange!
We wanted to release this collection on our beautiful, sustainably printed velvet and also on a natural fibre too! We tried & tested a number of blends, one included fabric made from Rose Petals, and came to our wonderful Melbourne made Organic Cotton which you can read all about below!
Fabrics – introducing Organic Cotton
The journey and search for the best sustainable fibre was a long one, but it was totally worth it! The criteria throughout our search was to be as local as possible, with the least amount of impact on the environment.  
The goal with this is to create a product that will last the test of time, one that doesn't get holes, it doesn't change it's shape, there are no issues with washing it. One of our favourite things is to hear feedback from customers saying how our flares don't change, even after 5 years of constantly wearing them and in our opinion, this is how it should be!
We source deadstock and recycled fibres from design-houses or closing down manufacturers, however this has been a challenge lately as there is less and less available!
There's new fabric around which spins discarded water bottles in to polyester fabric. Sadly, these recycled-polyester fabrics are focusing on swimwear at the moment, which we don't usually print on anymore due to it's lack of longevity & the thin-ness to the fabric. Also, we thought, why create more polyester, surely we could find a natural source for our next release!
We found bamboo based fabrics but didn't like the method of production and amount of water waste, air pollution, workers health and chemicals used to break down such a hard substance in order to turn it into a soft fibre.
There is the same issue with Viscose & Rayon. Essentially, though these fibres are natural sources to start with, they end up as a man-made creation once the process is complete, that's how much they are treated! Similarly, is the same problem when working with Eucalyptus fibre… not only is that affecting the soil and local communities, but the natural habitats of so much wild life and natural water sources! Don't get us started on the amount of de-forestation that is going on to produce viscose, rayon & eucalyptus clothing.
We're not going to load this up with statistics but if you're interested, here's a fabulous site to check out: www.canopyplanet.org/campaigns/canopystyle/


Having decided wholeheartedly not to use any of those fabrics, we went back to looking at how they did it in the past. What was our clothing made of, before the addition of harsh chemicals and massive machinery… and this lead us back to cotton, but not conventional cotton because that's just as bad as the rest! But Organic Cotton.
Similar to Organic fruits and vegetables, Organic Cotton is grown from natural seeds without the aid of harsh chemicals or pesticides. Because of this, the soil is able to soak up much more water and nutrients, meaning the crops require SO much less water, majority of them using rain-fall only. On top of all that, organic cotton growers use beneficial insects to control unwanted pests instead of relying on harmful chemicals, encouraging biodiversity as well as a massive reduction in Co2 emissions.
For further info, Vogue released an article with Environmental experts breaking it down: www.vogue.com.au/fashion/news/how-sustainable-is-organic-cotton-really/image-gallery/fb482e3c60f8278705a7b76f2fafd069
And so here we are, over a year later having found not only Organic Cotton but Organic Cotton which is spun from natural cotton-balls, into a rolls of fabric right here in Melbourne, Australia! The Organic Cotton fabrics that we print on use the highest quality 100% Certified Organic Cotton yarns to produce a super, soft jersey fabric which only gets softer and softer over time!
We're so happy to introduce this to our range through the Barbara Hulanicki collection! In the coming months, you'll be able to order ALL of our Exclusively Designed Flares in Organic Cotton too!
What else happened in the past year?
Environment and CSR
Flare Street has been carbon- neutral since the end of 2018!
In 2019, we partnered with CNCF, Carbon Neutral Charitable Fund which plant trees for the planet to offset all Flare Street's emissions for that past year and going forward. They carefully select native species that support natural ecosystems and wildlife, creating habitats that are more resilient to Australia's climate. The trees are protected for up to 100 years, so they can capture carbon as well as natural rainfall. To find our more about how many tree's have been planted & their locations, head here: www.cncf.com.au/our-approach-native-trees/
Local Manufacturing, sourcing & printing
Keeping in tune with our Ethos, Flare Street is made in Melbourne, Australia. Our manufacturing factory is no more than 30 minutes from our Studio, they work directly with our Printing companies of which we have 2. The staff at our manufacturing factory are all paid legal Australian wages, Superannuation and are members of their industry Union. When we're printing, we source and print within that local region in Australia, allowing delivery & transportation to be kept at a minimum. The more local we can make, print, sew and source the better!
Over 65% of Flare Street flares that were sold in 2019 were made from either our sustainably printed exclusively-designed fabric or recycled dead-stock fabrics!!
Solar Energy & Clean Banking
2020 saw us move to a new Studio in Melbourne which uses Solar energy.
Flare Street has chosen to switch our banking to a customer owned back which only invests in 'clean' industries as well as creating a 927 hectare Conservation Reserve.
Delivery & Postage
Our postal service provider will change this year to a local, registered B Corp and Australia's first 100% carbon neutral Domestic delivery service.  
Finally, our packaging which was made from recycled materials & is recyclable, will become 100% compostable, satchels, tape and all!
We also proudly don't use poly-bags (plastic packaging for transport) in any of our supply chain, from manufacturing to sending to our stockists and customers.
At the beginning of the year, we went over to London for London Fashion Week as well as to show our wonderful collection with Barbara Hulanicki to clients. What amazed us, was how interested and excited people in the industry were with our manufacturing process and the way we do business. To us, it's just the way that we think the world and industry should be...
We still have a way to go, and our environment is always top of mind but we are very happy to be making a small dint the right direction in this flare-loving world.
Spread the flare-love and if you have any questions for us, pop them below or send us an email xx 
PS: Don't forgot to ask your favourite brands 'Who Made My Clothes.'