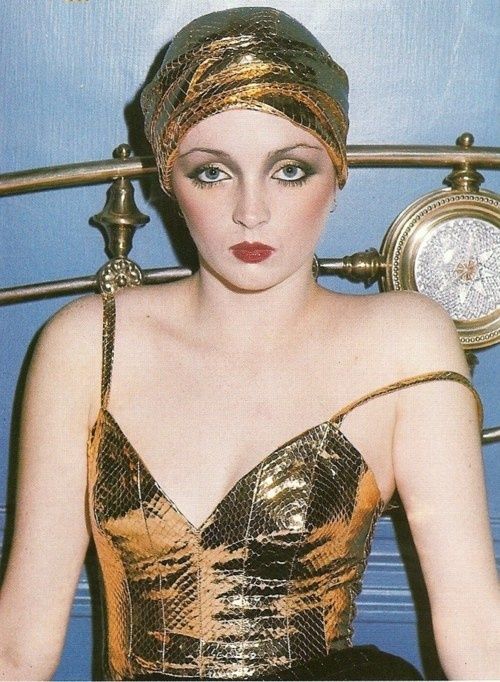 Just before the opening of the 3rd shop in Kensington High Street, Barbara and Fitz developed cosmetics for Biba. They went to one of the largest makers of makeup in Sussex, England and found that they weren't being taken very seriously...
Barbara had always dreamt of wearing brown lipsticks & natural shades, one's that shied away from the coral, bright pink and scarlet. 
Even though the management of the makeup company didn't take them seriously, all the girls in the lab were ecstatic to be formulating something different... after staying up all night to create the first brown lipstick, Biba found that they'd completely sold out within the first 30 mins of being in the store! 
Foundation was blended to suit a range of people and distributed from large vats to bottles on Barbara's kitchen table. Colours were so exciting and new, such as chocolate lipstick and mulberry eyeshadow! Fake eyelashes were a must!
Colours of lipsticks were now blues, purples, greens and black with matching eyeshadows and contour powder for the cheeks.
It didn't take long for sales of cosmetics to make up over 10% of all Biba sales. 
Something that we find commonplace now, but was novel in the late 60's, was the idea of being able to play and test makeup and move freely between items...
In fact, trying on the makeup was encouraged at Biba, to the point that people would come to the shop early in the morning, bare faced and apply all their makeup in-store before heading off to work!! 
By 1973, they were selling Biba cosmetics in over 30 countries across the globe! Bergdorf Goodman on 5th Avenue in NYC was one of their stockists & as well as Bloomingdale's and many wonderful, seaside holiday destinations.
Britt Ekland came into the Big Biba to have her makeup done for the Premiere for the 'Jame Bond' film she was in, 'The Man with the Golden Gun'. 
As with most of the clothing and accessories of Biba, the makeup was inspired by the 1930's. Creating deep cheekbone, small, pouting lips and luscious cat-eyes was their signature look. 
As the years moved from the 60's into the 70's, Biba's eye look and makeup paved the way. It was no longer about the harsh lines of the 60's but rather big, soft, round clouds of colour.
Keen to give the look a go? For the make-up lovers, here's a clip by Devyn Crimson where she runs through how to do Biba-style makeup! It's fabulous!! 
Below are some images from our photoshoot with Madison as well as our launch at London Fashion Week, with Biba-inspired makeup by Lucy Sotelo (@lucyloooove).
'
We hope you've loved seeing all these wonderful 60's Biba images! For much more, head to our Pinterest here: https://pin.it/5F819U2