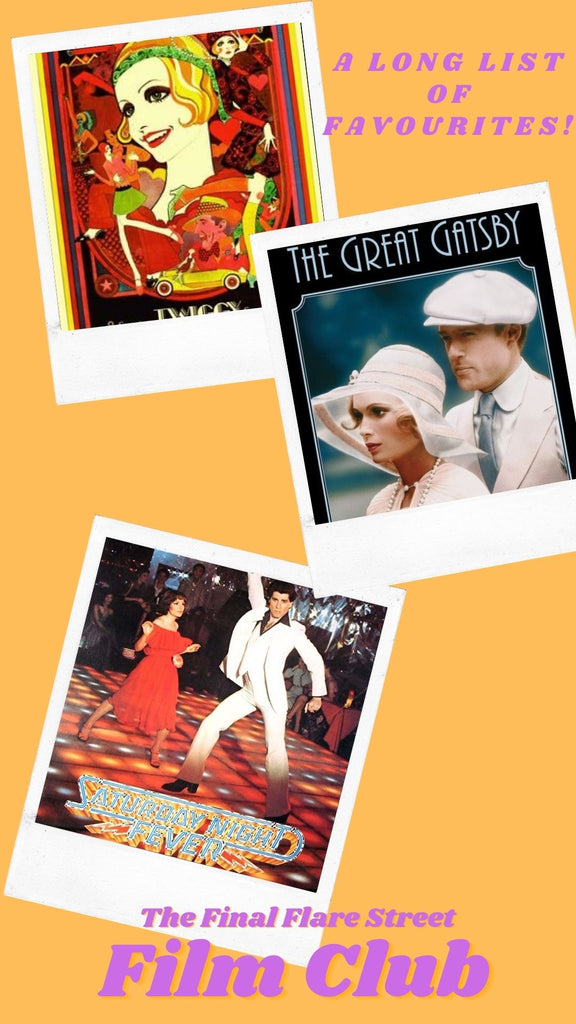 It's our final Flare Street Film Club session and we're here with a long list of our favourites! 
Below you will find the films we've chatted about in the past blog series, as well as a long list of films that popped up during our 'Babe's Who Inspire Us' Blog series. Of course, we've got some modern favourites too which either reference the 1960's & 70's or were filmed back then and released today!
We hope you love this list, there's some beautiful films in here with the most fabulous music, costumes and groundbreaking film styles... Let's go!!
Flare Street Film Club - Films featured on our Blog series:
To add to your list:
Let's start with the rest of the Beatles Films:
Magical Mystery Tour
Yellow Submarine
Help!
Let It Be
Some films that we've mentioned throughout our 'Babes Who Inspire Us' Blog as well as a few quintessential favourites: 
Monterey pop (1968)
Woodstock (1970)
The Stones In The Park (1969)
Hair (1979)
Kaleidoscope (1966)
Alfie (1966)
Joanna (1968)
The Boy Friend (1971)
Darling (1965)
The Man with the Golden Gun (1974)
Don Juan, or If Don Juan Were a Woman (1973)
Groupies (1970)
200 Motels (1971)
Fellini Satyricon (1969)
Salomè (1972)
Taxi driver (1976)
Midnight Cowboy (1969)
A Very Private Affair, 1962
Easy Rider (1969)
Shampoo (1975)
La Piscine (1969)
The Graduate, (1967)
Harold and Maude (1971)
Saturday Night Fever, (1977)
Lady Sings the Blues (1972)
Love Story (1970)
Mahogany (1975)
The Great Gatsby (1974) 
And some modern films referencing the 60's & 70's as well as some fabulous one's that were filmed back then, only to be released now:
Almost famous
Summer of Soul
Nowhere Boy
Factory Girl
Across the Universe
Austin Powers
My Generation
Quant
Magic Trip
Get Back
Thanks for joining us on Flare Street Film Club blog series, we hope there's some gems in here that you enjoy tuning into!
You'll notice so many of our favourites babes in these films, some of our favourite fashion designers too and if we can recommend one or two modern one's to watch, it's 'Summer of Soul' and in cinema's now is 'Quant.'!
Spread the flare-love xx
Check out our Pinterest here full of all of the Film Posters, the artwork on all of these is fabulous: www.pinterest.com.au/flarestreet/films-from-the-1960s-70s/