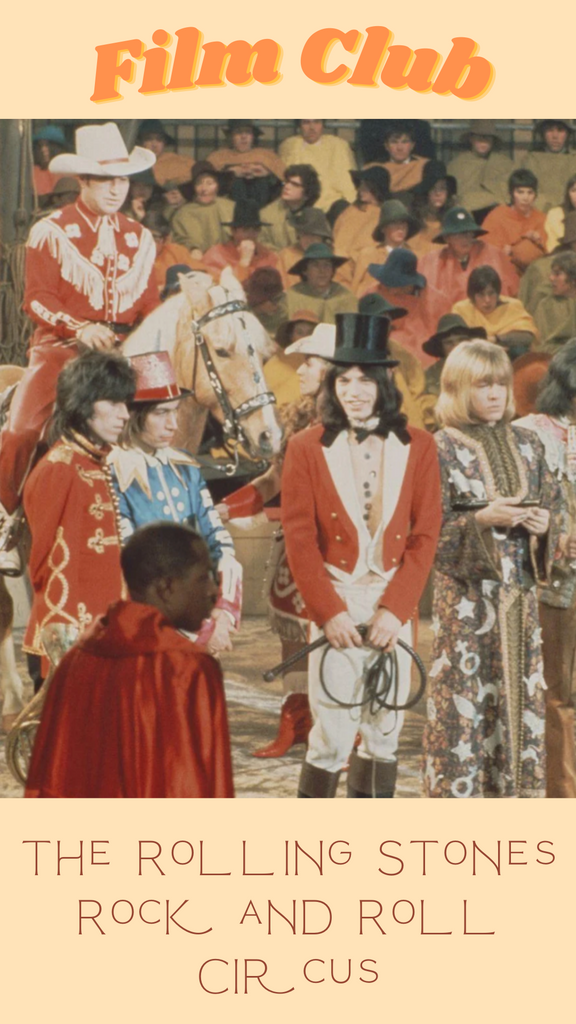 Welcome back to Film Club! As a tribute to Charlie Watts, this week we're watching 'The Rolling Stones Rock and Roll Circus!'
Filmed over 2 days in London, 1968. The Rolling Stones Rock and Roll Circus wasn't released commercially until 28 years later in 1996.
The story goes that the film wasn't initially released because the Stones weren't happy with their performance. They played after already filming for 15 hours…
However, between the Purple Velvet suited Brian Jones, Eric Clapton in his late 60's glamour and some of the most fabulous outfits we've seen captured on film from that time period, we'd have to disagree!
Shirtless Mick Jagger prances around the stage, John Lennon pops in some of his classic banter and there's a fabulous crowd singalong at the end, full of cheeky grins, fantastic dance moves and giggles from the Stone's boys.
It featured a line-up full of fabulous musicians. There was Brian Jones, Charlie Watts, Keith Richards, Mick Jagger, John Lennon, Eric Clapton and Marianne faithful to name a few…
Tune on in to this treat of a film to catch full band performances by Jethro Tull, The Who, Taj Mahal, The Dirty Mac, Marianne Faithful and Yoko Ono. As a bonus, Jethro Tull's line-up featured future Black Sabbath guitarist Tony Iommi!
Dirty Mac was a supergroup consisting of Mitch Mitchell (from the Jimi Hendrix Experience), Keith Richards (The Rolling Stones), Eric Clapton (Cream, Yardbirds & Derek and the Dominos) and John Lennon (The Beatles).
Spotted between performances were circus acts, the whole show is set in a circus tent with Mick Jagger as the Ring Master. Fire-breathing Danny Karma was assisted by Donyale Luna (see our past blog on her here!)
What's not to love!!
You can watch The Rolling Stones Rock and Roll Circus online here: https://vimeo.com/488838681
As a tribute to Charlie Watts and The Rolling Stones, we've created a Playlist full of our favourite Stones stone from their whole catalogue (click here to play).

It features a few numbers for The Rock and Roll Circus too! 
For more images, head to our Pinterest here! 
Spread the flare-love xx