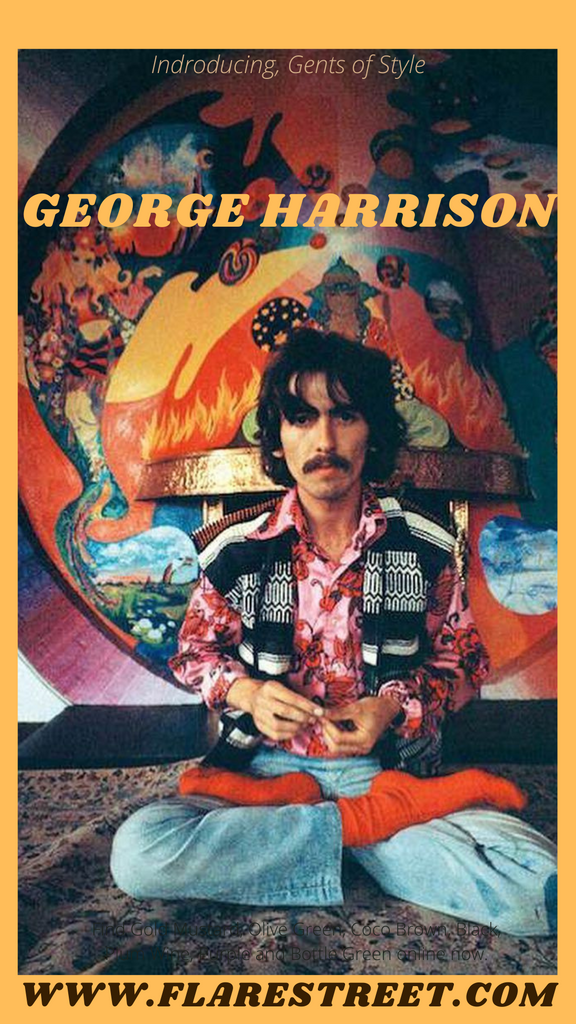 Next up to the stage on Gents of Style, is gorgeous George!
If you haven't noticed already, we are George fans over here at the Flare Street headquarters. He's our favourite for many reasons, of course one of the biggest ones being his impeccable style! 
George was of course best known for being the lead guitarist of the Fab Four. 
He was born in Liverpool to working class parents. He made his way through school (with Paul Mccartney) which he was never fond of, to falling in love with Rock n' Roll by the time he was 12. He purchased his first guitar by the time he was only 13, taught himself how to play and ended up the guitarist of the biggest band in the world, The Beatles. 
By 1963 he had landed himself on the UK top 20 chart with The Beatles first hit, 'Love Me Do'. By 1964 mass hysteria and Beatlemania were in full effect. 
Though George was known as the quiet Beatle, he wrote some of the most iconic songs ever written including 'Something' which is rumoured to have been written about our girl Pattie Boyd, 'While My Guitar Gently Weeps' and once he released his first solo record, post Beatles, he wrote the famous songs 'What Is Life' and 'My Sweet Lord'. 
He also wore some of the most iconic looks to ever grace the music scene. He started out with classic fitted french style suits, and as time went on and his obsession with Krishna Consciousness grew, his outfits became more flamboyant and of course followed the trend of the decade of swingin' fashion.
George Harrison has surely turned a number of heads in his life with his iconic and ever morphing style and wide range of looks. A guy that knew how to keep up with the changing trends whilst also keeping a signature style that's always recognisable from slick suits, to 60's fabulous fashion!.
Did we mention we love George! 
More images on our Pinterest here: https://pin.it/3UtCBDk
Play our George Harrison Playlist here: