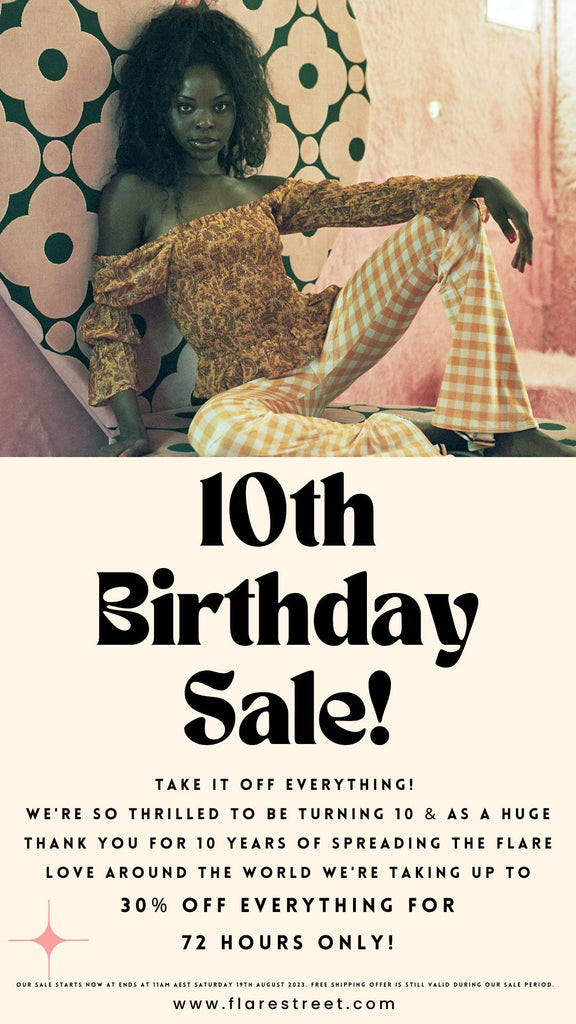 Edit: our sale has now ended! Take it off everything! We're so thrilled to be turning 10 & as a huge thank you for 10 years of spreading the flare love around the world we're taking up to 30% off everything for 72 hours only!
Our sale starts now at ends at 11am AEST Saturday 19th August 2023. Free shipping offer is still valid during our sale period.
We'd also like to take this time to thank you all so much for your support, especially during the last few years!
From Nik, Lucy, our team, sewers, makers and suppliers, we honestly couldn't have this fabulous world of flares without this wonderful community! We're so thrilled to be here & we can't wait to see what the next 10 years of flare-love brings!
We have a couple of updates for you too!
Following on from our pop-up shop in the UK, we're taking our goodies back to New York City in November! A trunk show is calling, so we're on the search for a shop to host it! we're asking our community for hot tips or hook-ups to their favourite boutiques! we'd love to hear from you!
And finally, we're celebrating after one of the biggest players in fashion copied our best selling design, and we won the case!! In 10 years, it's sadly not the first time but this one hurt the most. On a photoshoot in London, pre-Harry Styles show, we passed a girl wearing our best seller of 5 years... only they weren't ours. You know how much love goes in to these pieces, so we're ecstatic to have our IP back and the copies taken down!
We're so grateful, thank you for supporting our locally made business flare-lovers xx
Enjoy the sale flare-lovers xx