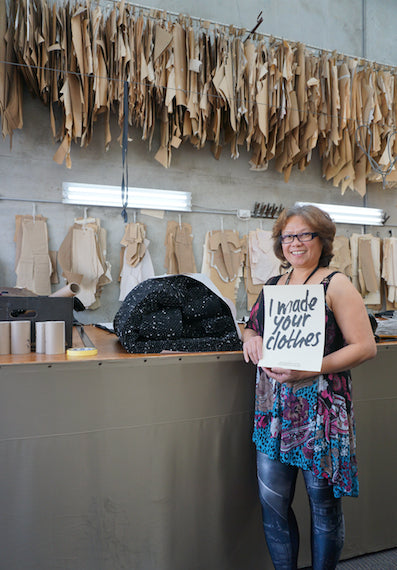 Located 10 minutes up the road from our studio, in Melbourne, Australia, we work closely with a fabulous team of makers and sewers.
For the first few years of Flare Street, I made the flares myself. Now I focus on the brand side of things, my customers and sourcing & designing fabrics. You will still find me behind the machines making samples, patterns or a few last minute orders.  
Truthfully, it was a hard task finding a team in Melbourne who firstly could make our garments to the standard we require, but also who were transparent with their business.
I first came across this team through my elastic supplier, after searching and trialling other factories & makers for nearly a year. When I phoned them to ask questions about quality, workers safety and standards and the types of fabrics they work with, Bill invited me to the factory straight away to meet his team and see where the magic happens.
It was so refreshing and encouraging to see how proud he was of them and happy his team were.
I head out to the factory every 1-2 weeks, I'm lucky enough to be able to pick up some wonderful fabric and drive it over to them!
At the factory there is Bill (the new owner), Bruno (the past owner), Maria, Hoa and Anna as well as 3 other casual sewers.  
Below is a little interview with each of the full time workers.
Bruno
Bruno started his business in 1979 in the CBD of Melbourne. Throughout that time he had anywhere between 7-120 workers sewing away and making amazing clothing. He has been working with Bill for 21 years, as well as Bill's 2 brothers.
How long have you been sewing? 
I've been in this business since 1979 but I have been in this line of work and profession for over 55 years (that's since the early 60's!!)
What are you really good at?
I'm a professional tailor and pattern maker – I still make most of the patterns as well as work on the machines.
How did you learn?
I first learnt at school in Italy.


Bill
Bill is the new owner of Bruno's business, he has been working with Bruno for 21 years and when Bruno was set to retire, Bill took over, purchased some more machinery and kept the team running. He has moved his factory twice in that time, due to rent increases.
How long have you been in the industry? 
Originally, my family were involved in pressing and dry cleaning. I've been pressing since I was really little. I came to Australia and started pressing for Bruno's business 21 years ago.
What are you really good at?
Now, I do everything - I make patterns, do the buttons, cutting, pressing and fusing... everything except the machine work.
How did you learn?
I learnt everything from Bruno, over the years, working my way from pressing. We now work on everything together, patterns, cutting…
Anna
How long have you been sewing? 
A long time! 25 years, and the last 6 years with this team.
What are you really good at?
Everything, I work with every fabric and can make anything!
How did you learn?
I learnt in my home country, Vietnam, at school.
What's your star sign?
Leo
Maria
How long have you been sewing? 
I have been with Bill's team for 3 years and before that I've worked everywhere. I worked in factories in Vietnam, I've worked for myself here in Australia since arriving in 1984, as well as for Black Milk Clothing.
What are you really good at?
I'm good at everything, I enjoy every style. I've worked at a lot of factories with a lot of different fabrics, one of them we used to have to make car seats in 65 seconds… Black Milk asked me to move to Queenland with them, I sewed for them for 2 years.
How did you learn?
I've been sewing for 45 years, I learnt when I was young.
What's your star sign?
Taurus
Hoa 
How long have you been sewing? 
I've been working with Bill and Bruno for over 15 years. I stared with them in 1995, then I took some time off work to raise my baby from 2006-2010 and I came back to work after that.
What are you really good at?
Everything, I like every material and I enjoy making everything.
How did you learn?
I learnt in Vietnam, I had a store there where I made everything myself, I made the patterns from what customers liked in catalogues, cut them and sewed. I did that for 3-4 years, then moved here and started working with this team.  
What's your star sign?
Scorpio
 

My Mum, Linda, has been apart of the journey from the beginning and still works with us. She is the best person I know at matching intricate prints and so she is the chief cutter of any fabric that needs to be matched.  

How long have you been sewing? 
Forever, my mum was a seamstress in the 1950's Melbourne rag trade. I grew up with a sewing machine in my bedroom, always watching my mum make things. There were 3 of us girls, and she'd dress us up in variations of the same clothes, as well as make herself the most magnificent dresses in the 60's & 70's.  

What are you really good at?
I'm pretty good at everything… I now focus on print matching of the flares. As well as sewing, I'm good at grading, seeing an item, figuring out how it's made and bringing it to life.
How did you learn? 
I learnt from my mum, watching her or her showing me and then practicing a lot. I grew up in a small country town, 3 hours from Melbourne. So if you wanted anything different or interesting to wear in the 70's, you had to make it yourself. I made all my kids clothes, and yes, there were a lot of flares in our house when the kids were young!
What's your star sign?
Leo
Some more images of the wonderful team:
Tomorrow on the blog series, we'll be exploring the fabric sourcing side of Flare Street. Stay tuned!