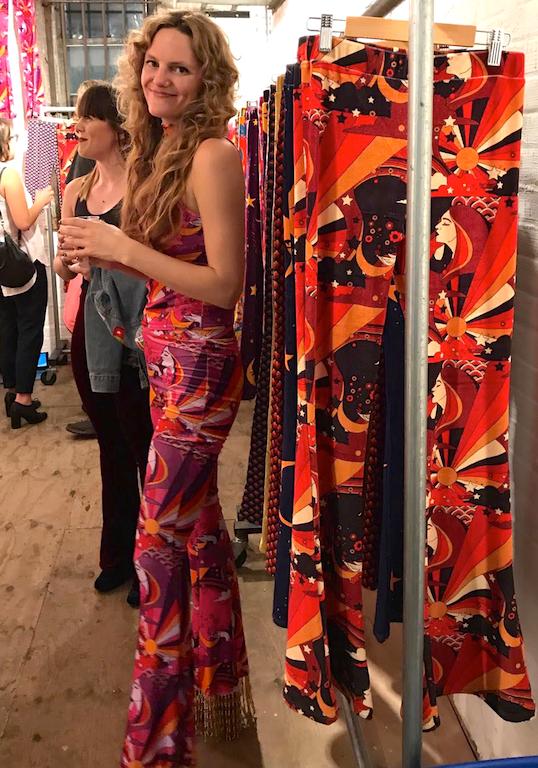 It's Fashion Revolution Week and we couldn't be more excited! It's something that we've been a part of for the last three years, and we have been looking forward to diving into the conversation again. We can't wait to celebrate with you at our Open Studio on Friday night! Check out the event page here!
Fashion Revolution is a global movement for a fair and safer fashion industry. The world is urging brands to be more transparent in the Fashion Supply Chain, so we're taking this week to let you know exactly #whomadeyourclothes, where they are made, and just how seriously we take slow-fashion (hint: VERY seriously!)
Follow along on our Blog over the next week to find out about our Fashion Supply Chain and the people behind Flare Street including our designer, and everyone that is involved in the making of your garments.
We're kicking Fashion Revolution Week off with a Q&A with the Founder and Designer, Nik:


How did Flare Street begin & why was it founded?
I will always name drop Pattie Boyd, Janis Joplin and the Biba girls as my style icons, but my mum has been the biggest influence on my style! I've worn flares since I was a kid in the 90's, when my mum would send me and my sisters to school in crushed velvet flares in every colour imaginable.

In my early 20's I started to search for the perfect pair of flares, and I realised they didn't exist.
So I decided to make my own, creating flares from quality velvet fabrics, and from there launched Flare Street from my mum's apartment in 2013. Crafting my garments on the kitchen table, the place was overflowing with fabric and sewing machines. I spent two years meticulously creating my pattern for a quintessential pair of 70's inspired, tailor made flares.
 
Image from the early days, the fabric stash grew very quickly!
Fashion from other eras has always appealed to me and influenced my style in a big way, and Flare Street is an extension of this. My customers are a very chic community whose personal style is individual and unique, but also influenced by the 60's and 70's in some way. They are free spirited groovers who love a seriously fab pair of pants!
The love and positive feedback I received early on from people both locally and internationally really encouraged me, actually my very first customer was a wonderful lady from Florida, she is still a valued customer of mine!


What did the early days look like?
When I started Flare Street, I was working full time in Marketing, as well as running the brand. I would wake up, check my emails & orders, go to work…then on my lunch break I would reply to more emails, post orders, and meet customers who were picking up their flares. Then I'd race home and start sewing until midnight, wake up and do it all over again. On the weekend I'd be constantly working or sourcing fabrics…it was hard, but I also realised how much I loved creating.


At what point did you realise you were actually going through with this dream?


There were a few key points in the last few years that really cemented the direction of my life and the brand, they were: 
My very first online sale!! Knowing there was someone out in the world that wanted flares, not just me, was so encouraging.
In 2015 my sister & I were in New York during Spring Fashion Week, and one night we were walking around Greenwich Village in our flares, and were stopped by about a dozen people! They loved them for themselves, or their partner, and for the 60's nostalgia. Unbelievably, one of the people who stopped us was a buyer for a prominent fashion house based in New York. We chatted, swapped details and needless to say, my sister and I spent the whole night sipping champagne in complete disbelief and excitement. This showed me that people in the industry were into my idea and sparked the belief that I could chase my dream.
In 2016 my health declined and I spent the next year in bed. During this year, the flexibility of Flare Street meant I could still create and keep the connections I had built with my customers. Because of my health, I wasn't working in Marketing anymore, but I did have the opportunity to try and make it on my own. At 26, I decided to give myself one year. I told myself that I would give the brand everything I had, and see where it went. If it didn't work out, at least I would know that I had tried.

That year, I moved from Etsy to my own online store, and moved from my home studio to a space in Brunswick. I hired interns and had my first two photoshoots, which were published in Yen and Sticks and Stones Magazine. The biggest moment for me was being invited to show my collection at New York Spring Fashion Week in 2017. It was the most incredible and surreal thing that has ever happened to me, I'm pretty sure I smiled for three weeks straight.
What inspires you?
I have a passion for colour and visual art that I demonstrate through my designs. I love to draw inspiration from the 1960's and 70's, an era where people explored self-expression through fashion, art and music. My designs are for those who are passionate about life and want to express their individuality. I want people to feel special, to feel empowered and unique when they wear my designs, that they are being themselves in the truest way.
There is a bold visual language and artistic aesthetic in Flare Street designs, with a focus on unique prints and fabrics. I love to rework concepts from the 60's and 70's with modern colours and structures. I love to pair decadent textures with an exceptional cut and an innovative use of tailoring.
Fashion is a constant evolution but there are some things that will always be present, and I want to create the garments that people will want to hold on to forever, through all seasons.

Here's a quick little list of things I love:
Records – Beatles, Stones, Byrds, Hendrix, War on Drugs, The National, Fleetwood Mac, Nile Rodgers & Chic, anything with a really good beat or a bit of a Disco groove!
Thrift shopping, vintage and markets
Beach, nature and warm cosy fires
Making clothes, figuring our how to construct garments & finding beautiful fabrics
Brands that inspire me: Biba, Ossie Clark, Thea Porter, Nanette Lepore, Stella McCartney
Seeing live music
Dancing and grooving around
A really good coffee


How long have you been sewing?
Since I was little, I honestly can't remember!
What are you really good at? 
I am really good at making Flares! I've also had a lot of experience sewing difficult fabrics such as velvet and Lycra, there's an art to it. I love to source fabrics, feeling the quality and visualising how it will look as a garment... that makes me really, really happy!
How did you learn? 
I was taught to sew at a young age by my mother, whose response to children stuck indoors on rainy school holidays was to go and sew something. She got her talent from her mum (who was a seamstress) too and she enjoyed passing on the tradition to my 2 sisters and I.  
What's your star sign? 
Aries (Pieces cusp)  

On set in Joshua Tree, California.
Tune in tomorrow for the next post. It's all about our makers, the factory and a Q&A with the wonderful team that now bring our flares to life.