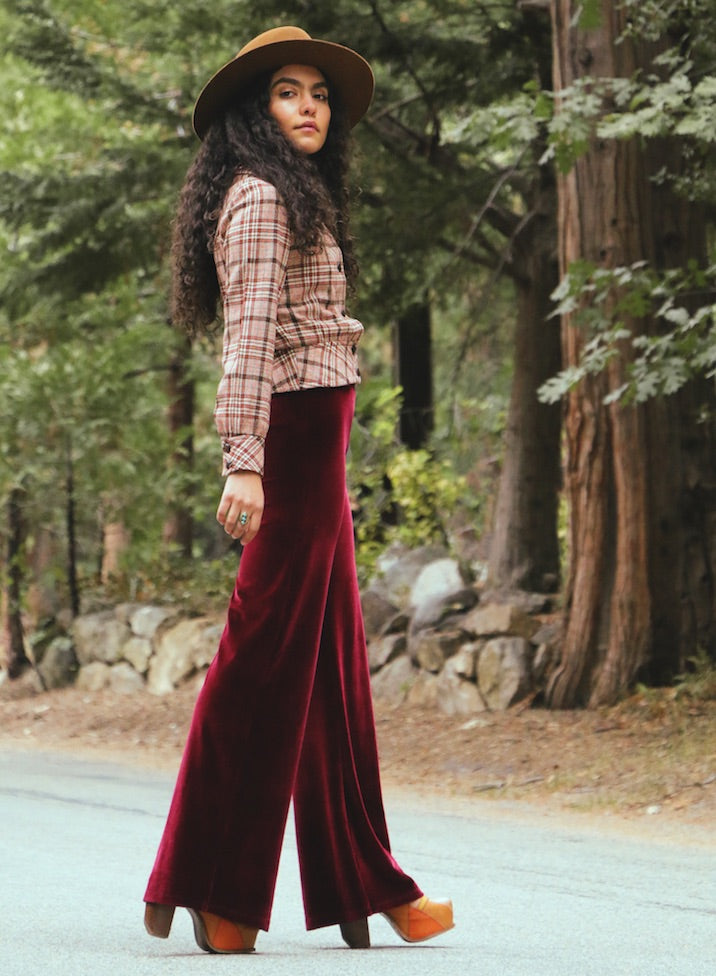 Just when you thought it couldn't get more comfortable than our flares... it's time for wide leg velvet flares! 
For years we've been asked to make a wide leg version of our flares, and we're happy to finally say here they are! 
It took us a long time to perfect these pants, as we wanted to make wide leg flares that flatter your body, flare at the knee but were loose and comfortable pants to groove around in! Made as an alternative to our wildly popular, Burgundy Velvet and Black Velvet Flares.
Researching our favourite 1960's brands, we noticed a lot of them were influenced by 1920's style - our wide leg flares are a throwback to these era's, encompassing a higher waist, thick waist band and a delicately placed curved flare to elongate those legs!
Notice from the images, how the waist falls without clinging to your hips, silhouettes the hip bone and thigh and then curves delicately at the knee to give that wide leg flare look!
They're made from a plain, non-crushed, deep burgundy, plum wine velvet, are super comfy and contain a lot of stretch and amazing flow of the flare. They are soft to wear and perfectly flared for any season!

These flares have a wide elastic waist band, and sit slightly higher than our original flares.
See below our inspo images from Biba Boutique as well as the original wide leg flares from the NYFW runway!
Captured by @conner_sorensen in our cabin tucked away in the Idyllwild Forrest. Styled and modelled by @_bambi_baby_ & @andyishh