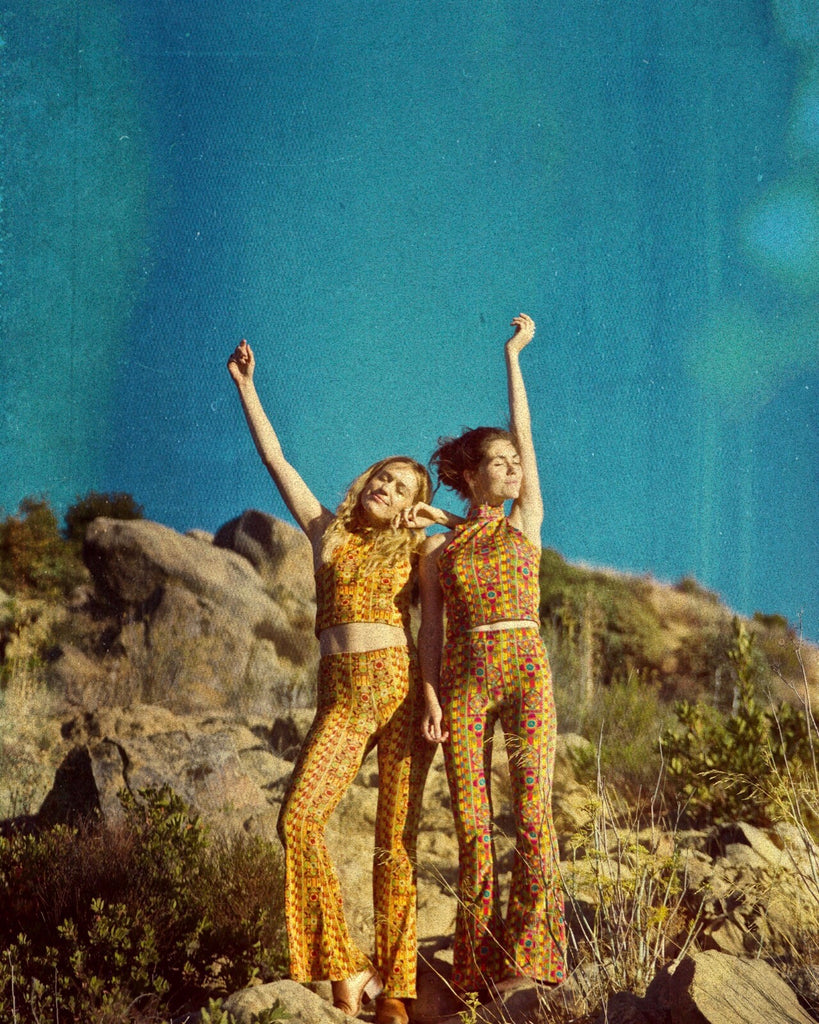 We've been keen admirers of Vanessa and Corina for a long time now! Both being brand bosses over in California - with Crafturday and Wild & Free Jewellery as well as road-tripping babes.
They've recently headed on another adventure and taken our Chiara Flares and tops with them, snapping pics on the sandstone hills under a beautiful full moon.
We chatted to them about what they love when they're on the road... have a read below! 
What do you value in a great roadtripping partner?
I think the most important thing with a road trip partner-in-crime is that they are flexible. A certain amount of flexibility and open-mindedness is SO important when on the road. If someone is extremely picky or needs things a certain way, they are not only going to be miserable but make you miserable as well (trust me, I know from experience, haha!)
Corina and I have worked out so well on long trips because we both have ideas of where we'd like to stop and places we want to see, but we aren't so rigid that we can't change if the unexpected occurs.
Have there been any unexpected challenges? Breakdowns, popped types, what happened?
A road trip is an adventure so I feel like the challenges are all part of it! The first day of our longest road trip yet (8 days!) we encountered a series of problems in such a short amount of time.
Corina's car got a flat, she got word that there was a fire right next to her house in Santa Barbara and our first stop was Vegas in the hottest weather ever! The flat was the first flat tyre either of us had ever gotten so we didn't exactly know protocol…we handled it by filling it as much as possible and booking it to our Vegas hotel!  It went completely flat throughout the night and we had Triple A come out the next morning.
Corina's house ended up being unscathed from the fire too! Now the only thing we had to deal with was the 116 degree Vegas heat…it makes you delirious…!
You two have road tripped to Utah, Arizona, Colorado, Nevada and of course California… What do you look for when you choose your destination?
We look for something that is super beautiful and picturesque, just an all-around amazing nature spot! Often it is a national or state park. It also has to be no more than a couple days drive by car, but honestly I'm not sure now our road trips just seem to keep get longer and longer. 
Next I would love to go to Mt. Rainier in Washington. It just looks so epic! Plus there would be so many beautiful spots along the way from the forests of Northern California to the beaches of Oregon!
What is the one place in the world you would LOVE to roadtrip?
One place I never made it too while I was in Australia was New Zealand! I've heard that it is such an incredible country and so much natural beauty. Seeing the islands by car seem like the best option as well. We'll have to make that happen! 
What music or podcasts do you listen to… any favourite road trips songs?
Honestly Corina and I are such chatterboxes. We barely listen to any music on our trips haha. There's just always so much to talk about and see - we are both clearly high energy!!. 
Finally, what wise words would you give to someone whose keen to try it out, but never set out on a road trip before?
I'd say start small! Go someplace that is a couple hours from where you live and really appreciate every stop in-between. Work up to where you can do more and more days on the road. You do have to be somewhat organized for the longer trips as you have to plot out how much to see each day and what city you'll end up at for lodging.