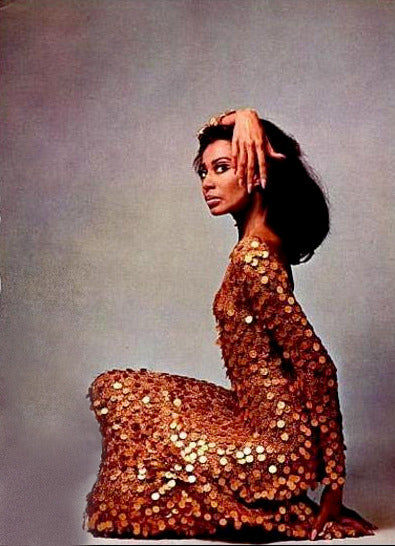 Where to start with this Detroit born goddess… After moving to NYC in the mid 60's following a phone number given to her by an agency scout, Donyale was soon dancing with Veruschka at parties thrown by Sammy Davis Jr, attending dinners thrown by Miles Davis and being photographed for editorials alongside Bob Dylan & Jean Shrimpton. She quickly became known across the USA as the first black super-model. And that's just the beginning!! 
Then came Andy Warhol's Factory & Donyale found herself in the midst of it all! He captured her ethereal beauty on his 16mm Screen Test as well as Polaroids. You'll see her appearing in Warhol's film, Camp, dancing in a backless dress to 'The In Crowd'.
In 1965, she headed over to London and found herself in the middle of Swinging London. Featuring in the film, Blow Up, and The Rolling Stones Rock and Roll Circus.
Breaking even more ground and paving the path for thousands of models after her, Donyale was featured on the cover of Vogue in 1966. She became, and will forever be know as, the first black woman to grace the cover of Vogue magazine.
Captured, of course, by legend photographer David Bailey and wearing dresses and outfits by Chloe, Dior, YSL & Pierre Cardin.
From then on, you could find her on the catwalks in Paris, gracing the pages in most 60's & early 70's magazines as well as travelling around with Salvador Dalí and featuring in more films (Fellini's, Satyricon (1969) and Carmelo Bene's, Salomè (1972)).
Thanks for joining us again for our latest in the series of 'Babes Who Inspire Us!'
For more image of Donyale Luna throughout her career, head to our Pinterest here!
 And Click Here to Play our latest Playlist inspired by her!