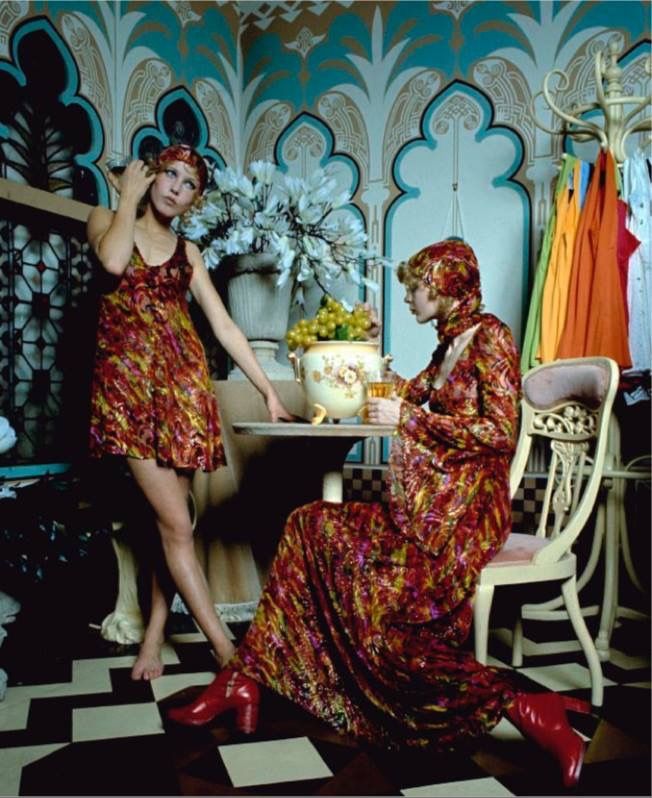 "It was like that in the 60's, you spoke to strangers and invited them back to your flat without thinking twice. We went to quirky little shops like Granny Takes a Trip, they sold clothes – crushed velvet trousers, fitted jackets with thin arms in wonderful greens and burgundies. Everything was very tight, and men wore boots, jackets, shirts with big collars - Regency, almost. There was an amazing number of new shops. I loved Hung On You, Foale & Tuffin for dresses. Mary Quant and Ossie Clark… and then there was Biba…. Barbara Hulanicki's brainchild!" – Quote from Pattie Boyd's Autobiography 'Wonderful Tonight.'
"Fitz and I used to always live a couple of blocks from the shop or in the area. High Street Kensington was once equal to the grand area next to where Harrods was in London. When we got the shop, it was shabby and forgotten but an amazing building and also near a major tube station!
It was lorded by the three old decaying department stores and a walking route from Portobello Road, which was very important on the Saturdays – of course people walked for miles in those days. We were the first store to open until 8 in the evening, which was ground breaking in those days but amazing for business to catch people after they finish work." - Conversations with Barbara Hulanicki, 2019. 
During this time, they found that trying to predict the Catalogue sales was too challenging, some items they would sell 14,000 and others only 3,000. Trying to find 20,000 yards of fabric overnight and manufacture that amount of pieces in 2 weeks wasn't working for Biba, not to mention the warehouse and admin costs! So even though the catalogue was a huge success for the past few years, it proved to be too difficult and it was phased out...
They did get some absolutely amazing photography out of it though! 
Before the very end, in 1969, one last catalogue was sent out to help raise money for their new shop, High Street Kensington, which was to be 9 times the size of the Church St store!
Everything that could have gone wrong did – fabrics weren't delivered, cuts of the best styles were not right and the summer season was ending. It dried up a lot of Biba's finances and so they decided that they needed to find investors.
"It was at the mail order moment we took in partners, we made a fortune for them in the 3rd shop and just when everything was running like a dream, the horror of the partners started… that's another story." – Barbara Hulanicki, 2019.
They worked for months to get the new shop ready. Finding 1920's Egyptian style columns underneath boarded panelling in the shop and winning a whole heap of carved wood and stained glass windows for 100 pounds at a local auction from a St John's school that was being demolished.
When the shop opened in 1969, the paper's labelled it 'the most beautiful store in the world.' Each week it was attracting 30,000 people, more than the Queen's guard.  
A cream and pink gallery was filled with all the expensive Biba items such as sequinned dresses & long leather maxi-coats. There were velvet covered chaise lounges and at the back of the shop, an area dedicated to kids featuring a mural of fairies and gnomes all over the walls and roof. The men's area was downstairs and the household department was by the front door. The new makeup counter was at the front of the store too.
To give you an idea of just how much they were selling, in the Church St store they were bringing in £10,000 a week... in today's money that is £150,000 ($300,000 Australian dollars!) And this was at the smaller store. High St Kensington was 9 times larger!!  
Fitz & Barbara took on partners who owned Dorothy Perkins, a very large brand in England at the time with multiple stores as well as a financial house, whose director was a Biba fan. Together, they owned 75% and Barbara and Fitz had 25%.   
From our interview with Jane Winkworth: "Alan Farmer owned Dorothy Perkins, he and his family were our next door neighbour growing up. Alan & his son were to buy Biba out from Barbara and Fitz. Alan was always trying to persuade me to work for him at Dorothy Perkins and to turn it into a Biba lookalike!!' 
Contracts were signed and in 1969, the High St Kensington store was booming and Biba cosmetics was starting to take off! They introduced children's clothing, household goods and lot and lots more ostrich feathers.
To celebrate to launch of their Biba makeup range, they held a party for the Press at the store which was themed '1930's Tea-Dance.' A 3-piece orchestra played 1930's tunes, the girls were laden in white satin dresses, there was a chauffeur dressed is 30's gear opening doors out the front and a huge line of people to get in. Twiggy turned up along with a film crew from BBC and needless to say, it was a success. Everybody left and as they did, took handfuls of ostrich feathers with them!  
As Biba grew and grew, they found that the introduction of cosmetics was making over 10% of sales for them! In the next few weeks, we'll be posting makeup looks, tutorials and our favourite Biba images featuring their iconic colours and innovative creations!
Next on the blog, we chat to Barbara Hulanicki all about her fabrics and design inspiration!
To go along with this blog post, we've made a new Playlist! Click here for the top tunes from 1967,1968 & 1969!!
Sources:
Pieces from this blog were taken from our conversations with Barbara Hulanicki in 2019 as well as her autobiography, 'From A to Biba', which can be found online here: www.booktopia.com.au/from-a-to-biba-barbara-hulanicki/book/9781851779635.html
Pattie Boyd's Autobiography, 'Wonderful Tonight' can be found online here: https://www.goodreads.com/book/show/764063.Wonderful_Tonight