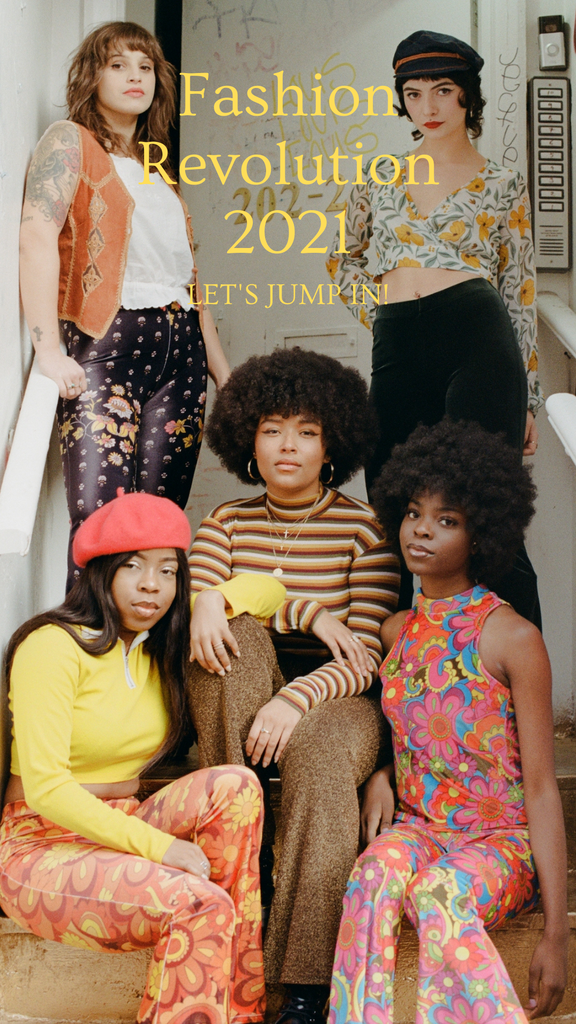 Hello and welcome to our 5th Fashion Revolution Week at Flare Street!
Most of you will know that this is one of our favourite weeks of the year... why, because we get to open our doors to a lot of the behind the scenes bits of Flare Street's daily operations.


Today, we're chatting about our suppliers, fabrics and introducing our new 100% recycled thread!
Over the coming week, we'll be focusing on so many aspects of our business from our Ethical Clothing Australia accreditation, to diversity, casting & sizing updates, to our carbon neutral partners, Pay the Rent partners and our future commitments. We're so excited, let's jump in!!
Recycled Thread – imported by our suppliers just for us!
Fun fact, our thread makers produce every month enough thread to stretch all the way to the sun…
So we've switched our thread to the first globally available 100% recycled sewing thread. They create this by collecting waste plastic & used plastic bottles (PET), sorting, cleaning, grounding to flakes and then melting down and extruding it into the fibre and filaments from which their sewing threads are made.
It is a stronger, more durable thread with a higher strength core. This means our flares have an even lower repair rate, even lower manufacturer faults, lower irregulars, and increased productivity. We've been sourcing this thread since last year, and within the first week of using it our Melbourne factory was amazed by it's quality! It's stronger and better for the environment, what's not to love!
It's all Vegan
 Melbourne Organic Cotton over Recycled Polyester
We choose local, oh so local! and organic fibre over recycled polyester. We have the opportunity to use recycled polyester in a lycra or matt finish for our flares however, we decided that switching to a fibre that will one day completely breakdown was more important for our long term goal of earth-loving. We love that the whole process is completed in Melbourne, from cotton ball to fibre to printing to flares!
We know our flare-lovers love our velvet and so do we, but for the sustainable fibre lovers, we're committed to offering you a more sustainable fabric option, so Organic Cotton is here to stay! 
It's all Vegan
 Velvet – our favourite Classic Colours are being dyed just for Flare Street!
Our Velvet is still polyester based, and one day this will change, but we don't have the opportunity to meet the same standard in quality just yet. We like to say our velvet is the 'Rolls Royce of velvets', it's durable, soft and will pass the test of time. We focus on creating garments that will last a life time and be able to be worn daily for a long time, without tarnishing or needing any repairs. That's the quality of the velvet that we work with, we love it!
In the past year, we've been working directly with our Australian supplier and their factory to create the perfect Flare Street colours in velvet. After a number of lab dips, we're happy to say that we're now going to be able to source Flare Street's own Olive Green, Golden Mustard and Copper! These colours have proven hard to find in the past, and we're thrilled that we're able to create them to the exact colours and tones that we know our flare-lovers love to wear!
It's all Vegan
 Made in Melbourne – we're part of the Australian Made Campaign
Last year, we received so many wonderful notes on orders saying that flare-lovers were purposefully choosing to support locally made items. This warmed our hearts, it kept us grooving and our Melbourne makers making!
At Flare Street we strive to support local Australian companies. We buy all our products used in production from Australian businesses, we like to keep that Australian rag trade and economy going!
About 3 years ago, we stopped importing any products ourselves and elected to support only Australian companies. This goes for everything, not just fabric! It also means, we now get the use the Australian logo below… you'll soon see this little badge (the Australian Made, Australian Grown logo) on all of our flares!
Check out our suppliers list, location, item origins and more info on ALL of our wonderful suppliers below!
 

Sourced from

Family owned business

Location it's made

Years we've been working with our supplier

Years they've been in business

Base Velvet for our exclusive designs

Australia

Yes

Korea

5

Since 1950's

 

Base Organic Cotton for our exclusive designs

Australia

No

Australia

1

Since 1990's

Classic Velvet fabrics

Australia

Yes

Korea

5

Since 1950's

 

Deadstock Fabrics

Australia

Multiple, most yes.

Italy, Australia, China

8

-

Non-exclusive fabrics

Australia

Multiple, most yes.

USA, China, Korea, Italy

8

-

Elastic

Australia

Yes

Taiwan

8

Since 1970's

Bra Straps

Australia

Yes

China

5

Since 1950's

Recycled Thread

Australia

Yes

Across 6 continents

1

Since 1970's

Flare Street Tags

Australia

Yes

Hong Kong

8

Since 2000's

 

Size Tags

Australia

Yes

China

5

Since 1970's

 

 

 

 

 

 

Compostable post satchels

Australia

Friend-owned

China

1

Since 2020's

Compostable post labels

New Zealand

Friend-owned

USA and China.

 

2

Since 2010's

Flare Street Post Cards & Swing Tags

Australia

No

Australia

5

Since 1990's

 

 

 

 

 

 

Fabric Printers

Australia

Yes

Australia

5

Since 1990's & 2010's