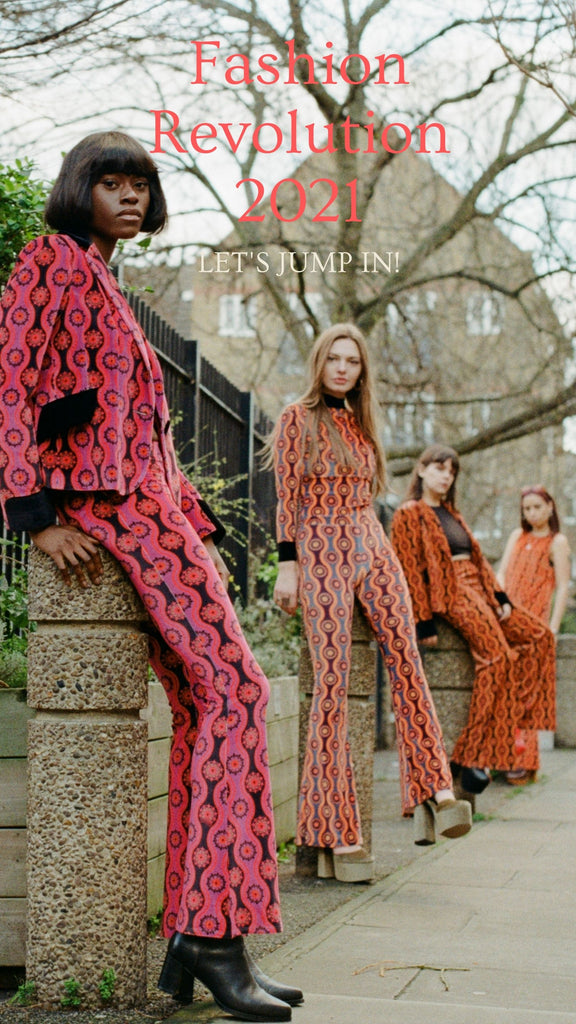 Join us today for Part 2 of Flare Street's Fashion Revolution Week 2021! On this post, we're delving into Flare Street's social responsibility... 
This is the way we do business, it has been our Ethos from the start in 2013 and it is continuously developing. As we grow, we ensure we're taking the steps to continue our commitment to the planet, people and society.
Let's go!!
Pay the Rent:
Flare Street contributes a percentage of our annual profits to an Indigenous controlled Naarm based organisation, Djirra for Pay The Rent, a concept that was established in the 1980's.
Paying the Rent is a step towards acknowledging this land was never empty, the sovereignty of First Nations people was never ceded.
Rent is paid directly to traditional custodians of the land, both as an acknowledgement of their sovereignty, and in recognition of the continued occupation without treaty. Rent payments are not a donation – they are a payment made for use and benefit of occupying Aboriginal land, and a mechanism of restitution. Flare Street have selected Naarm (Melbourne) based organisation, Djirra.
Djirra is a place where culture is shared and celebrated, and where practical support is available to all Aboriginal women and particularly to Aboriginal people who are currently experiencing family violence or have in the past. The work they do is predominantly designed by and for Aboriginal women, their organisation is an Aboriginal Community Controlled Organisation governed by an Aboriginal Board of Directors who are elected by their members.
From 2020 onwards, we are committed to Paying the Rent in an effort to move towards justice, truth, equality and liberation for First Nations people.
Find out more about Djirra here: https://djirra.org.au
Find out more about Pay the Rent here: https://paytherent.net.au/
Ethical Clothing Australia:
Since the beginning of Flare Street, our goal was to make our flares locally. Last year, with a bit of extra time up our sleeves, we started our journey of becoming accredited with Ethical Clothing Australia.
They strive to protect and uphold the rights of Australian garment workers. To be accredited, our manufacturing operations are audited from design to dispatch to ensure that local workers & everyone along our Australian supply chain, are being paid appropriately, receiving all their legal entitlements and working in safe conditions.
By supporting accredited business, it's helps to strengthen the Australian textile industry, all of it's workers and ensures Australian working, safety, payment & super standards are being upheld.

This has been 8 months in the making, it's a vigorous process and we're almost at the finishing line! We can't wait to add their accreditation and tagging to all our garments, showing just how special and uniquely made each Flare Street piece is!
Carbon Neutral:
For the past few years, Flare Street have partnered with Carbon Positive Australia who focus on education & raising funds to plant trees for the planet to offset all emissions. They carefully select native species that support natural ecosystems and wildlife, creating habitats that are more resilient to Australia's climate. The trees are protected for up to 100 years, so they can capture carbon as well as natural rainfall.
Their approach to combat climate change is to take degraded, unused land and restore the natural habitat by planting a mix of native trees and shrubs that are indigenous to the area. Planting trees offsets the carbon emissions we humans create in our everyday activities. CPA is a partner to 1% for the planet. 
Flare Street offsets all emissions yearly and are committed to doing so every year.
Our Packaging & Postage:
Let's just say, it's all happy, earth-loving packaging!! We send our flares to flare-lovers in 100% compostable satchels with compostable address labels and tape made from potato starch. For wholesale customers, we use compostable Poly- Bags and compostable sticky tape. 
Our tissue paper & postcards are FSC Certified meaning the Forest Stewardship Council certifies that the paper is sourced from a forest and supply chain that is managed responsibly and sustainably. They also use soy-based inks & non-toxic chemicals. Shortly, we'll be switching to only recycled-paper.
Our postal service provider is a registered B Corp and Australia's first 100% carbon neutral delivery service. DHL, our Express International service provider, is offset & carbon neutral too.
A couple of other fun facts: Our Studio in Melbourne uses Solar energy.
Flare Street has chosen to bank with a customer owned back which only invests in 'clean' industries as well as creating a 927 hectare Conservation Reserve.


Clothing Miles:
In terms of garment footprint (similar to food-miles, clothing can have that same journey), we focus on being as local as possible and purchasing as local as possible. Have you seen those items that arrive within 1 day from overseas, wrapped in plastic? Most likely it's already taken 3-4 plane journeys just to get to the store... we strive to be the opposite of that!

Check out our infographic below to see just how little carbon emissions are created during our production (hint, there's no planes from fabric creation to flares!!).
Thanks for joining us! We'll be back with our final instalment, Part 3 shortly.
As always, if you have any questions about the way we do business, get it touch, we always love chatting with flare-lovers about sustainable fashion!
Spread the flare-love xx