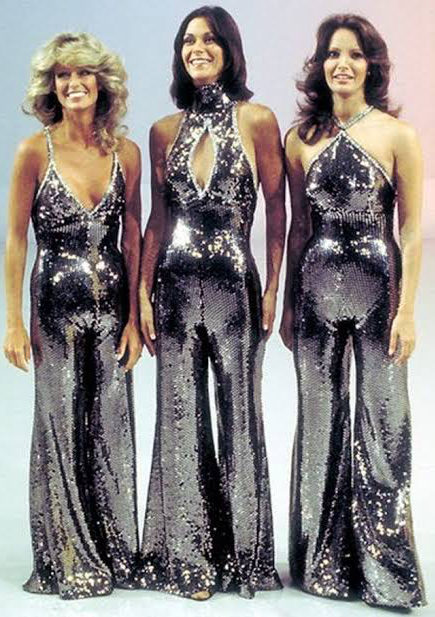 An exciting breakaway from the more modest dresses that were the uniform of women in the 1950's and early 1960's. The convenience of one piece of clothing as an entire outfit combined with the freedom and statement of equality that pants provided.
Cher was americas sweetheart and quite the show stopper in countless iconic one piece suits. She was the 'It Girl' who adopted the jumpsuit as part of her glittering stage persona.
In the 1970's Cher popularised Bob Mackie's biker gymnast onesies by pairing them with high heeled boots and sparkling accessories. Perpetually pushing boundaries in fashion, you can't think of Cher without thinking of her glamorous semi transparent rhinestoned show girl catsuits, with matching feathered pieces.
On the red carpet most of Hollywood would arrive wearing evening gowns but Cher would bring the colour, patterns and hyper feminine form fitting catsuits.
Diana Ross was also one of the biggest names to bring fame to catsuits. Diana has always had fearless style, but she ruled the 70's.
She had a true passion for fashion, it's no surprise that she even had dreams of becoming a designer herself. Best known for being a member of The Supremes, she also had a wildly successful solo career. She was a regular at Studio 54 and was always the definition of bold, she embraced all that glittered, from bell bottom sequined catsuits on stage to her signature sparkling sheer "naked look" jumpsuits paired with a feather boa, of course!
We couldn't have a blog about catsuits without Dancing Queen Agnetha Faltskog of ABBA. A few of the most iconic jumpsuit moments of all time included Agnetha. Who could forget the photographs of her in the darling bubblegum pink catsuit with a heart cut out!?

You also might remember her and Anni Frid as dancing queens in matching electric blue catsuits or white sequined jumpsuits on stage. Agnetha was famous for her staple 70's style that was the perfect blend of glam, rock and a whole lot of sparkle and shine.


Catsuits were and still are the perfect real life wardrobe for the modern woman, which is surely a major factor in their appeal to both celebrities who frequented Studio 54 and the every day woman walking down a street in London.
Some of our favourite 'Babes Who Inspire Us' were pioneers in breaking fashion norms leading into the 60's, 70's and beyond. Though the catsuit was designed with the idea in mind of fabric hugging every curve of the body, it was also a statement in taking the feminine power back with fashion!
Click here for Part 3 and our final instalment of our series..!!!